Ah, the joy of being single.

How else could I have had a good friend of 8 years to come over to my place on a Saturday night to cook, vs spending Saturday like most lovers do - humping like jackrabbits and staring into each others eyes meaningfully?

Wong the Lawyer just had to spoil it, I tell you.

She volunteered to cook Mee Sua (oh no!) which she claims is going to be an easy conquest since it takes a mere 6 minutes to complete. All she had to do is to tear open the packet, pour in some 2000ml of water, and add in the ingredients; it is that simple.

By the time she came on her bicycle (we live THAT close) with the DVD of Intolerable Cruelty at hand, I had finished making my trademark MASH POTATO. It is darn good I tell you!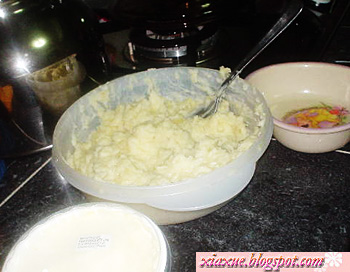 I am a good chef ok! My grandpa was a chef and my uncle is STILL a chef so I like to think that I have maintained that set of good genes. However, in front of people like Shuyin and Weili who are also (note: I said also) very good at whipping up gourmet meals, I PRETEND that I cannot cook!

THATS RIGHT WEILI AND SHUYIN! I was pretending! All this while I was actually an expert but I wanted you guys to do the shitwork!

Nah, actually the only thing I can cook is mashed potatoes. =( But at least it tastes good.

*

While Wong started meddling with the pots and mee sua packet, I took the chance to go take a bath.

Promptly came a deep-lunged scream from my brother: "JIE!!!!!!!!!!!!!! WHAT IS THAT ON THE FLOOR??!"

Then predictably came Wong's panicky voice, "I WILL CLEAN IT UP LATER!!!"

I came out of my bathroom, and what do I see?



BAM! Wong's tee stained with flour!!!!!!!!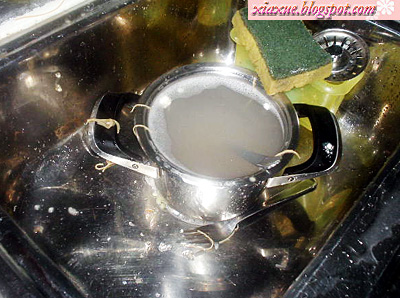 BAM! My sink filled with mysterious WHITE STUFF and random pieces of mee sua!





BAM! The chef in disgrace!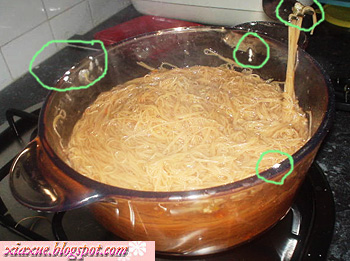 BAM! WHAT A HORRIFIC SIGHT!




And the worst:











SHE TRIED TO POISON MY CUTE AND INNOCENT DOG! NO CLOUDY, DON'T GO NEAR HER FOOD!!!!!!!!



Now Wong, this is a serious problem. I know you do not like Cloudy as it fits your theory that "ALL ANIMALS ARE FILTHY", but please do not poison him?!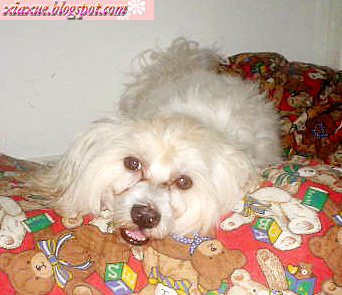 Why? He is so cute! Why hate him? Oh my poor Cloudy ...


BUT ANYWAY, we managed to rescue Cloudy from the potential poison, so he is still here, quite alive and cuddled on my feet as I type this.

In the end, the mee sua, which Wong tried her best of get rid of the mysterious white specks (turns out they were "undissolvable" starch as Wong proclaimed), actually tasted like it was cooked ok.

The problem was not with Chef Wong (but of course) but with Taiwanese products - its taste by itself was quite bad. TOLD YOU NOT BE INDULGE IN CHEAP GOODS WONG!

So you were wondering what has all the cooking got to do with sports. Here it goes, my MSN conversation with Wong this afternoon:

Oh no I am at home on Saturday!! says: (This is me)
wong eekean!
yingz - i've got gmail yeay! says: (This is Peiying)
what?
Wong says: (This is Wong)
she mo tai ji
Wong says:
i wanna play badmintion
Oh no I am at home on Saturday!! says:
dun want can
yingz - i've got gmail yeay! says:
and you're asking yan yan???
Wong says:
why cannot?
Wong says:
she's gettin fat n ugly
yingz - i've got gmail yeay! says:
yea but no way she's gonna play badminton
yingz - i've got gmail yeay! says:
hey why don't you ask ah dong they all... their rackets still at my place
Wong says:
har?
Wong says:
but they are not a cycle away
Oh no I am at home on Saturday!! says:
and dun care about me?!
Oh no I am at home on Saturday!! says:
cannot like that la doh
yingz - i've got gmail yeay! says:
yea u evil girl dun wanna play badminton
Wong says:
yalor
Wong says:
u so fat n lazy n u blame me for not askin u
Oh no I am at home on Saturday!! says:
i suck at it what
Wong says:
I ask u last night lor
Wong says:
no
Wong says:
no what
yingz - i've got gmail yeay! says:
hey i dunno how to play lo and i learnt it hor
Oh no I am at home on Saturday!! says:
if i ask u to spend the day doing photoshop u want?
Wong says:
I rem u were q good leh
Oh no I am at home on Saturday!! says:
lol whatever gave u that impression
Oh no I am at home on Saturday!! says:
and i dun have sport shoes either
Wong says:
look: at badminton I can RETURN ur serve
Oh no I am at home on Saturday!! says:
my nikes disintergreted themselves after 3 years of disuse
Wong says:
how the hell do I photoshop WITH u
Oh no I am at home on Saturday!! says:
we can play competitive photoshop
Oh no I am at home on Saturday!! says:
BUT MY POINT IS
Wong says:
what in the world is competitive photoshop?
Oh no I am at home on Saturday!! says:
u do not like playing with stuff u either suck at or don't know how to do
Wong says:
u dun suck lar
Wong says:
last time we played at rv
Oh no I am at home on Saturday!! says:
just like badminton and photoshop
Oh no I am at home on Saturday!! says:
NO NO NO
Oh no I am at home on Saturday!! says:
no sport shoes
Wong says:
u were playin wif me n U DIDN"T SUCK
Oh no I am at home on Saturday!! says:
no sports WEAR
Oh no I am at home on Saturday!! says:
I DID TOO! I sucked!
Wong says:
play with slippers lar u fool!
Oh no I am at home on Saturday!! says:
i'm too short then my serving range v low
Wong says:
nonsense
Oh no I am at home on Saturday!! says:
oh no no no no shoes without heels
Oh no I am at home on Saturday!! says:
DUN WANT LAH
Oh no I am at home on Saturday!! says:
dun be silly
Wong says:
u dun have slippers???
Oh no I am at home on Saturday!! says:
i'd rather go shopping
Wong says:
I give up fighting with u
Oh no I am at home on Saturday!! says:
good to hear
Wong says:
I'm gonna ask someone else to play with me
Oh no not badminton! No sports for me, it causes sweaty vulvas! says:
sure
Wong says:
I honestly dun understand ur aversion to sports
Oh no not badminton! No sports for me, it causes sweaty vulvas! says:
it causes sweaty vulvas
Wong says:
can u please
Oh no not badminton! No sports for me, it causes sweaty vulvas! says:
NO!
Wong says:
STOP BEING LAZY
Oh no not badminton! No sports for me, it causes sweaty vulvas! says:
i will FOREVER be lazy
Wong says:
ur mom says ur fat
Wong says:
I say ur slumpy
Oh no not badminton! No sports for me, it causes sweaty vulvas! says:
i dun mind what the pots call me
Wong says:
can u please????
Oh no not badminton! No sports for me, it causes sweaty vulvas! says:
no lah actually i dun mind going swimming
Wong says:
n yesterday u did the most sinful stuff in the diet dictionary
Wong says:
u could have burned in hell for that
Oh no not badminton! No sports for me, it causes sweaty vulvas! says:
wat, horrid mee sua?
Oh no not badminton! No sports for me, it causes sweaty vulvas! says:
i didnt touch that stuff
Wong says:
eating mash potatoes like 1 tub at midnight
Oh no not badminton! No sports for me, it causes sweaty vulvas! says:
*cough pot cough*
Wong says:
can u behave like an average ger?
Wong says:
watch ur sodding diet n weight
Oh no not badminton! No sports for me, it causes sweaty vulvas! says:
average girls do not like their vulvas SWEATY
Oh no not badminton! No sports for me, it causes sweaty vulvas! says:
what is wrong with u??
Wong says:
they do not have sweaty genitalia
Oh no not badminton! No sports for me, it causes sweaty vulvas! says:
what if someone offers to perrform cunninlingus for me after the game?
Oh no not badminton! No sports for me, it causes sweaty vulvas! says:
what am I supposed to say?
Oh no not badminton! No sports for me, it causes sweaty vulvas! says:
"Sorry, my vulva is sweaty, u sure u wanna do this?"
Wong says:
den sodding say meet u in the shower room
Wong says:
n lap urself with dove
Oh no not badminton! No sports for me, it causes sweaty vulvas! says:
too much trouble
Wong says:
...
Oh no not badminton! No sports for me, it causes sweaty vulvas! says:
hahhahaha
Oh no not badminton! No sports for me, it causes sweaty vulvas! says:
conclusion: NO BADMINTON, NO SPORTS!


It is so fun to make Wong angry. Hahahahha *evil grin*

Sports is not cool, because? REPEAT AFTER ME: It causes sweaty genialia!

Gooooooooooooooood! =)