Advertorial

Women supposedly start to age at 25 (and some more kiasu people say, 24).

It's disgusting! Suddenly, all around me, people my age are beginning to use words like "skincare" and "anti-aging", not to mention start discussing brands as well as ways and means to keep on looking 24 for as long as possible!!

Before this year, all I ever did for my skin was to wash it with Biore Men's facial cleanser (something I've been using since my teens, which I started because a number of ex-boyfriends used it and I liked the smell) and maybe occasionally slap some Cellnique on.

However, as wrinkles start to appear and pimple scars don't go away that fast anymore, I realised that's not really enough. Isn't it scary?

Besides, all my girlfriends are starting to do all sort of assorted things to their skin before they sleep: Cleanse, exfoliate, tone, serum, moisturize... wake up moisturise as well as put sunscreen... Go for facials... Squeeze blackheads... ETC!!!

IT'S LIKE IF YOU DON'T DO IT YOU WILL LOSE OUT TO ALL THESE GIRLS LOR!!

BUT!!! The problem is, there are SO MANY BRANDS ALL AROUND! Some people swear by certain brands, but it is near impossible to try everything and find the right stuff for you, isn't it?

Luckily for me, I get sponsored stuff!! :D

Now, you're possibly angrily shouting now, "How is that relevant to me?! You stupid hao lian bitch...!"

It is relevant because I try stuff out for you and tell if you it's good what!! HMPF!

So anyway, the brand in the spotlight today is called Kawaii Tokyo, a line of facial products all the way from Tokyo, Japan!

Personally, I have more faith in products that are made in Asian countries as I feel that they are more suited for Asian skin types.

I was very happy when I saw the packaging for Kawaii's products because the theme they are using seems to be all Princessy!! Their mascot, a girl called Ms Moe Kawai, has flying hair, long eyelashes and wears a tiara! My type of girl :D


These are the products they sent to me: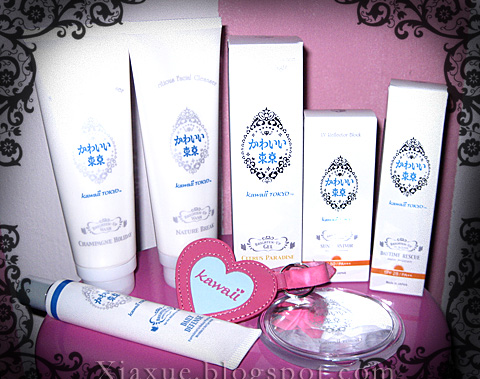 I love the packaging they came in but I already threw away some of the boxes.
I heart Japanese products because some much efforts is
always put into the aethestics and quality!
Even comes with a totally Kawaii mirror! :D
Exciting!
The whole Kawaii range seems to have a common theme, which is something they call
"Brighten-up"
.
Brightening is also sometimes called whitening, although, from what I know, whitening is a
misconception
. Products which claim to whiten actually get rid of dead skin etc and bring out a glow in our skin, making it brighter, healthier, and less dull!
It's very important to have "bright" skin, otherwise you'll just walk around looking like a corpse.
Every other female in the world seem to want to have fairer skin though, except for me, coz I like to look tan! Not the dull sort of tan --- like
glowy Victoria's Secret models sort of tan
!
I wonder if the "whitening" elements of Kawaii worked on me though, coz I noticed that although I got equally tan on the face and body in Langkawi, my face is now like much fairer than my body. -_- Maybe you can give their products a try if you want to get fair.
Prior to writing this, I already saw some magazines (Female, I think) review Kawaii's products, and it seems like the star product is Kawaii's sunscreen.
However, as I don't really go out in the day often (except when I go tanning), I can't say I have really experienced the effectiveness of their sunscreen... More about the sunscreen later.
The product I really like is the
Brighten-up Wash Champagne Holiday
!!
I am going to cam-whore with my favourite facial wash for a bit. By a bit, I mean...
A lot
.
(Just cut my fringe coz I got bored of my hair)
Let me think:
How many poses can one come up with with a tube of facial wash?
A lot apparently!
Ahem. As you can see I really like it. Hahaha!!!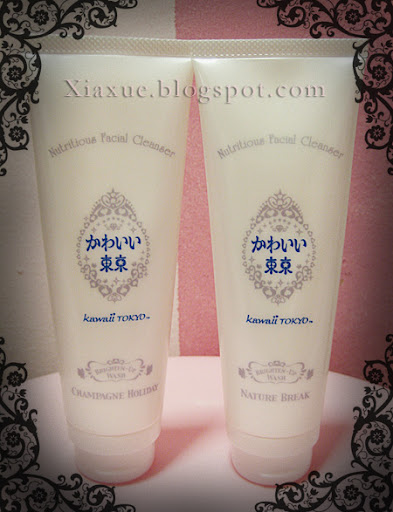 Kawaii's facial wash comes in Champagne Holiday as well as Nature Break.
I like Champagne Holiday more coz it smells (to me la...) like
roses
(which I am very partial to) and it leaves a very nice lingering scent even after washing off! I have a xiang face!
Nature break is nice too! I'm having difficulty describing a smell but it just gives a very refreshing feeling while washing, and brings to mind... woods and cleanliness? Like you can almost feel birds chirruping around you as you wash your face. Hahaha!
The texture of the thick creamy wash has a pearly tint to it, and it's very rich and foamy so using just a small amount is enough!
After washing, my face doesn't feel overtly dry, and seems to become softer to the touch.
AND I WASH!!!
A dollop on fingers
Lather
Lather
Pose!
Have you ever seen someone so gleefully washing their face before?
I know la! I'm supposed to use make-up remover on my make-up first, but this is purely for photography purposes!
Their other products: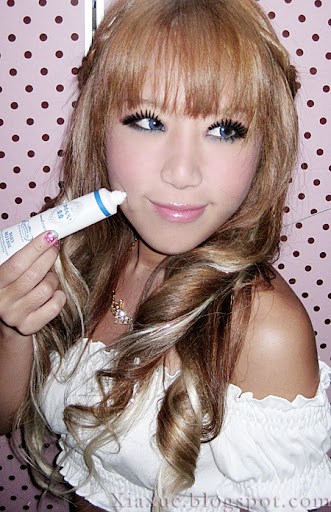 Brighten-up Wrinkle Solution
- for the delicate eye area!
Yes, I know I'm supposed to put it on my eye area not my cheek.
Squirted a little out for you guys to see the texture.
Wrinkles around the eyes!!! So have to put eye cream before going to bed.
It also reduces puffy eyes as well as dark eye rings.
Kawaii's eye creams come in
Daily Defense
as well as
Overnight Repair
.
Daily Defence is specially for reducing photoaged wrinkles in the eye area, and Overnight Repair is for reducing puffy eyebags... like I get after overnight mahjong!
The eye creams are non-sticky, smooth, and contains whitening elements too. I like that it's non-sticky, which I generally find rare in eye creams. How the hell can you sleep with sticky stuff on your face?!
As any vain enough girl can tell you, harmful UV rays are the main culprit that causes aging to happen. As such,
UV protection is very important!
Brighten-up UV blocker DAYTIME RESCUE
- SPF 28/PA++
This contains:
Brightening: Vitamin C derivatives
Natural Moisturizing Factor: Wild Thyme extract
Anti-aging: Star fruit, Bilberry, Shell Ginger extracts
Astringent: Prune extract
Anti-inflammation: Licorice extract
A little squirt on the face
Non-sticky and water resistant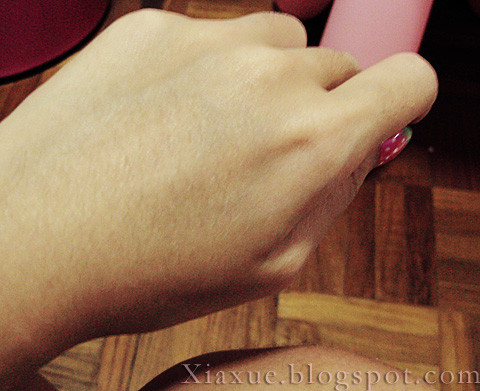 Undetectable once blended in
Daytime Rescue is more for daily usage, but if you are going swimming or doing any outdoor sports that lets you face the strong sun for a long time, the
Sun Survivor
should be a better choice.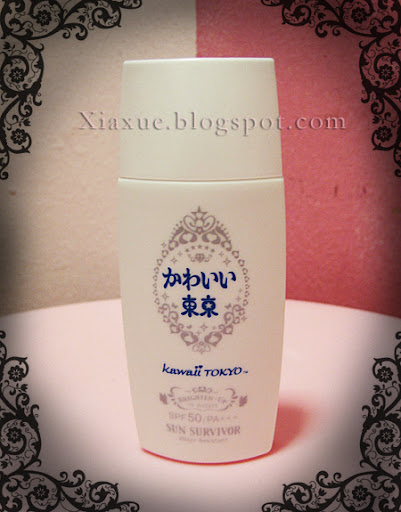 Brighten-up UV Blocker SUN SURVIVOR
- SPF 50/PA++
This contains:
Brightening: Vitamin C Derivatives, Alpha Arbutin
Anti-aging: Vitamin A, Vitamin B2, Vitamin B3
Natural Moisturising Factor: Olive Squalane, Hyaluronic Acid
Astringent: Witch Hazel Extract
Anti-inflammation: Platinum Nano-Colloid, Licorice Extract
Remember to always reapply after perspiring!
Last but not least, Kawaii gave me
Brighten-up Gels
!
All-in-One Step Skincare
Comes in two scents!


I like Citrus Paradise coz it smells (not too strongly) like mandarin oranges. :D
What is this? Believe it or not, it's like a
magic gel that combines toner, moisturiser, firming essense, brightening essense, as well as make-up base!
Before you diss off products that are 5-in-1, I'd have to say that this actually works pretty well! It kept my face from being dry and my complexion dewy (I was given the products to try for 3 weeks) and I noticed that my face got less oily too!
This contains:
Vitamin C Deriatives + Vitamin E
Hyaluronic Acid (moisturizing component to invigorate collagen activity)
Marine Collagen (for dewiness and resilience)
Olive Squalane (channels oxygen to skin)
It is also alcohol and animal-based ingredient free!
I know! My hands are so wrinkly under the Macro glare of my camera!
After being spread out, the gel feels very pleasantly cold on my skin. It also sort of seeps into the skin pretty fast too, so that after a while, the effect is that the gel is not sticky and very smooth!
It's also not oily and feels watery.
I AM A KAWAII GIRL!!


Interested?? Wanna give it a try? Maybe you can get
Kawaii products for free
! Click
here
to go get Kawaii's special promotion for my readers, and you are one easy step away from a chance to win a Kawaii product!!
For more information, please check out Kawaii's website
here
. :)
p/s: Yes I have strawberry nails! Not watermelon! And I painted it myself!! :D
p/p/s:
I do have very hairy arms! I don't think it's ugly and I cannot be bothered about those stupid hairs, so stop the multitude of similar comments about my arm hairs!