I am very irritated yesterday I blogged out an entry and then I kicked the CPU's wires and then the entry got erased.
So, I patiently blogged it out again.... I felt very delighted as I feel that the second entry was even better than the first. I even put in the links for the pictures. =)
With satisfaction I put my legs on the end of the table and FUCKING HELL I KICKED THE CPU'S WIRES AGAIN AND THE FUCKED UP BLOG ENTRY GOT ERASED KNN ITS THE SECOND TIME WHY AM I SO STUPID....
*puff puff puff* *cool down...*
My point is that this is my third time writing this so as usual I would say that I would cut it short but it would turn out longer than it once was anyway.
I would like to say that I do not know how Singapore Polytechnic functions. For people who are unfamiliar, Poly students get their modules grades usually by having a mixture of tests, participation marks, projects, and most importantly, exams. Now, once I took Media Law right, and I got a 80 for my first test, 83 for the second, and good participation marks. This means the chances are pretty high that I can get a distinction for the module if I did well enough for my exam.
When I finished my exam, I was quite satisfied with it, and I thought I could get at least an 80 from it. However, when the results came out, I did not even get an A! I GOT A FREAKING B!
I'm so damn pissed. It happened for the other modules as well! Stuff I thought would turn out to be worth a B would turn out... D! Its ridiculous! It is flabbergasting! It is nausaeating!
I demanded to see my exam scripts but my lecturer would not agree to it. She said it is a secret. Damn right it is a secret! I think it is what goes on in the marking hall....
*****
Lecturer: Hey, let me read an exam script for once! Oh the stupid students! Study so hard, yet they don't know that we don't read their exam scripts at all! THE MARKS ARE ALL GENERATED FROM THIS STUPID MACHINE!!! AND ITS COMPLETELY RANDOM!
Machine operator guy: I would like to have a Quarter Pounder burger now... I am so hungry...
Lecturer: Hmmm... This Wendy Cheng person actually writes quite well! I think she actually deserves an A... What did the machine give her?
Machine operator guy: Where is the nearest Macdonalds?
Lecturer: *flips to back of script* OH! The silly machine gave her a D! LOL the poor dear... Too bad, this is life...
Machine operator guy: No pickles. I don't understand why they have to put the horrid pickles in. I shall ask for no pickles.
Lecturer: ARE U LISTENING TO ME OR NOT?
Machine operator guy: Anything I could get for you?
Lecturer: *shake the machine guy's shoulders* DO YOU WANNA HAVE SEX WITH ME OR NOT?
Machine operator guy: How much??!
*****
In conclusion, when a SP student gets lousy grades, it simply means he or she has bad luck. The As are not easy to come by you know?
I know... You think that I am bullshitting to cover my lousy results. I AM NOT!
To prove it, here are this semester's grades: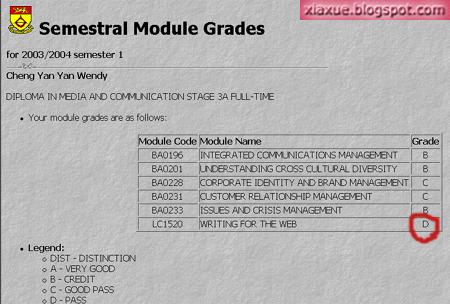 See the module circled in red?? SEE THE FREAKING MODULE!
Read it after me. WRITING...... FOR... THE... FUCKING WEB!
I GOT A "D" FOR WRITING FOR THE WEB!
Tell me, people... DO YOU COME TO THIS WEBSITE FOR SUCKY WRITING?? "D" GRADE WRITING?? KNN! Its not my worth at all! Half a year for a site to get traffic of 700 clicks a day for non-porn material is decent enough for any 19 year old!
Can you imagine? In future when I apply for a job with this Diploma (*ahem, contrary to popular belief I will not remain a Tiger Girl for life), my employer will think, "This lady sure can't write for the web!"
Well, thats totally BULLSHIT.
Enough of angry events. Lets move on to disgusting events.
Heres to all UGLY people:
PLEASE STOP HAVING LOVE BITES.
I don't know about you people, but I personally have a very vivid imagination.
For example, today, I was at Sentosa giving out Cult samples to people to drink. Presently this ugly couple came along. Don't get me wrong. It is ok to be ugly. It can't be helped anyway.
So anyway, the ugly couple took a sample from me. My smile died immediately. On both of their necks were love bites the size of frisbees and the colour of undiluted Ribena.
Immediately, they lost whenever dignity they had with them initially. In my mind's eye, their clothes suddenly flew off, and replaced was an image of them naked, hiding in the bushes and screwing each other vigorously, in a very baboon-like fashion. The guy begin to lick the girl's boobs with pervertic eyes....
OH NO!! STOP IT! STOP THE IMAGE!! IT IS TOO HIDEOUS FOR WORDS!!! UGGGGRHHHHH!!
Please, ugly couples. I beg of you, please don't do this to us. The jocks in school were wrong for laughing at your polka dot clothes years ago. Yes, the cheerleaders are sluts for sniggering at your shoes. I will curse them to eternal hell. But please... NO LOVE BITES!!!
*****
On a happier note...
Guess what my aunt bought for my mum! And guess what I managed to steal from my mum, which was a present from my aunt!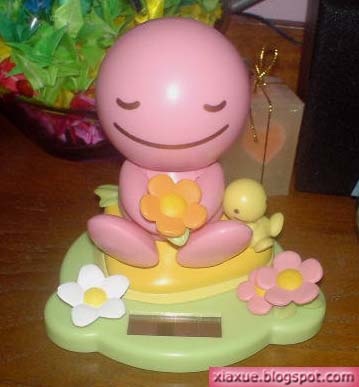 SO CUTE!!
Does Jeremy love me, Herpes? (I have decided to call it Herpes)
*nod nod*
Are my boobs big, Herpes?
*nod nod*
Are u telling the absolute truth, Herpes?
*nod nod*
Good girl!