I know I know! I shall set up a friendster account.
It shall be an account for an
ugly donkey
.
I will suggest a match between the donkey and people who have "open marriage" as their status when they are obviously just "in a relationship" and not freaking married.
I will also suggest matchs between the donkey and desperate guys who msg me in friendster to "make friends". Yeah, give me one good reason why I should "make friends" with them. Do I not have enough friends as it is? Doh. Fucking waste my time to read their msgs. Some of the messages are really really hilarous and stupid. Should I be mean enough to post them up inclusive of pictures? Drop me a comment. (p/s: I am really really tempted.)
I will msg the desperate guys and ask them cheesy questions like "Are you REALLY single? How cum no girlfriend? You look so sweet... Can we be friends? I love fishing, wood-working and packing my wardrobe, you?"
It would be
really
nice to see the look on their faces when they see that someone thinks they will be compatible with a donkey.
For example: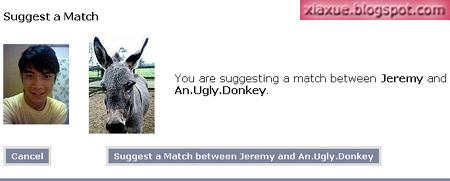 I decided that using Jeremy as an example for the victim seems to be quite evil, so I decided to choose June instead. However, by some accident this turned out:

IT LOOKS
DAMN
WRONG. Very very wrong.
*shudders*
Shall go write the donkey's profile now. If wanna add the donkey as your friend to matchmake to other irritating friends of yours you can add the donkey at yycheng84@yahoo.com.sg.
Nights everyone. I shall go write the donkey's profile now.