Its Valentine's Day once again, the stupid day where men spend so much to pay to florists who are sniggering behind their backs.
Juts a thought: If you are a flowery florist, should your date buy flowers from you to give to you? If he does (I am assuming that most florists are females), isn't it irritating that u would have to wrap your own flowers?? If he does not, do you feel betrayed that he is giving business to other people?? Wahahahahaha... LOL
I'm not gonna blog much coz I'm using my friend's laptop and I hate typing on laptops.
So anyway, what did YOU do this V Day for your loved ones?? I excitedly shaved my pubes into a heart shape and dyed it pink merrily, and then realised that no one's looking. So I dejectedly went to a bar to look for other singles so that the dye job doesn't go to waste. Alas... All the bleach corroded my skin and it is now inflamed with little cauliflower-like growths, thus scaring the shit out of the French man (You should be like ze hippo...[see Along Came Polly, f-funny]) I managed to hook up at a bar. He freaked out, smacked me with a Hermes bag, poured some wine onto my head and proceeded to leave for the Eiffel Tower. WTF.
I'm kidding. But I thought it is a pretty cool idea, isn't it?? I mean the dyeing, not the cauliflower like growths.
So anyway, Alvin bought me a big bouquet of Tulips despite me explicitly asking him not to coz I do not think the florists deserve the money (He can jolly well give it to me!), and I think that I would be very tempted to whack love-sick people with the bouquet should they smooch on escalators. It would be very pleasant if they have hay fever.
So, I left the bouquet in the car.
However, as I was walking around Cineleisure, I realised that I should not have left the bouquet there, coz everyone else seems to prancing around with an adoring male and a teeny weeny bouquet of flowers.
The POINT IS THAT MINE IS BIGGER!!!
Now I know how men with big penises feel. You wanna shout to the world! "I HAVE A FUCKING BIG PENIS!!! YOU SHOULD FUCK ME AND HAVE THE TIME OF YOUR LIFE!" but they can't, coz they can't prove it just like that!! How irritating is that!!
MY BOUQUET IS BIGGER! IT IS BIGGER! IT IS BETTER!! IT HAS MORE OoophMmm!IT HAS MORE FLOWERS! ITS EXPENSIVE TULIPS!! NOT STUPID ROSES!! But I left it in the car!!!
No one is competing with me you say. BULLSHIT! The silly girls with the single rose (or the miserly 3 rose plastic wrapped bunches) are all giving me the "My bf treats me better than yours!" look. Well thats nonsense. Alvin, although boyfriend he is not, just caught me a firefly from camp.
And it really glows!! Its so cute!! Alvin says that to catch it you sort of wait for it to fly around, then smack it. Then it sort of goes dizzy and flutters down to the grass, where you have to immediately whip out a torch and find it. And he presented it to me in a ice mountain water bottle.
But thats not the point!! The point is I wanna slap those girls!! Why are they looking so proud of themselves??! Its just a minute puny bunch of cheapo flowers!!! HELLO! WAKE UP YOUR IDEA!! Stop looking so dreamy and love-sick! HE JUST WANTS A BLOWJOB! (If the same theory stands Alvin wants a BIG blowjob. I asked him and he denies it. Bloody liar.)
I thought of ways to counter these idiotic girls.
I shall print t-shirts. T-shirts that I would sell on V-day to girls who don't wanna (or didn't) get flowers.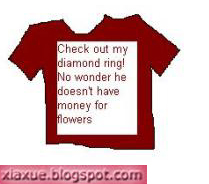 And if thats not satisfying enough, surely this is: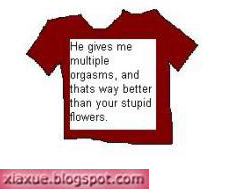 Wahahahaha.. Did I say I shall not blog much.. Sorry, I eat my words again.