I have a confession to make.
I met this guy at a party last Saturday.
He is smart, he is not-bad looking, and he is
obsessed
with me.
I kinda like him too.
The only problem is... He is 42 - and fucking rich (not that that is a problem). He has this yacht which costs $2.2 million, and his bungalow at Sixth Ave is four storeys high.
In his Jag, I told him it is impossible this relationship works out. He is as old as my father!
He pressed a wad of $100 bills into my hands, looked deep into my eyes, and said that he would do anything to be together with me. He wants me to be happy.
I relented. I am so ashamed of myself. We had sex. And it was good.
He said he would give me time to think. The next day, he presented me with a cyan box. THAT TRADEMARK CYAN BOX that every woman wants.
Look what he bought me! It is just so beautiful....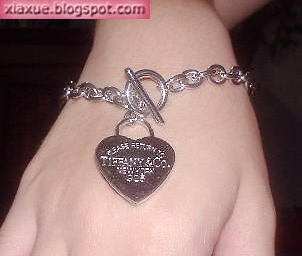 JUST KIDDING!
Did you, for a moment thought the bracelet was REAL??? Like, true blue Tiffany & Co??
Mua ha ha ha ha ha ha!!! Fooled you didn't I??!
I'm a cheapo la! I bought the bracelet at an, ahem, pasar malam store today at a freaking low price of $14.50. Well at least it was SUPPOSED to be $14.50. At such a horrendous price, I still managed to lower it to $12!!! Can you believe it??! So cheap.
Isn't it so nice?!
Hey if you see me on the streets, don't go tell your friend that my bracelet is fake ok? *winks*
Hiyah I know you will anyway. Go ahead. At least I am honest. For half a blog entry. =D
On a side note, has anyone noticed that the MSN photos are very funny?
Besides the ostrich, I think this one looks damn funny too!

Ha ha! Look at his yellow eyes (one big one small) and refined cheekbones! Where got skull blue colour one??! And if you squint a little, you will even notice that he has a... RIDICULOUS GREEN TONGUE!!! =D
Xiaxue, out. (speaking of Idol, I think Fantasia looks... really ugly. So does the other girl anyway, so I shall shut up.)