I told you my photoshop is good, I didn't say
how
good.
Let's look at one of the most awful photos I ever took.
Photographer: EK Wong (The initals to sound cool)

Location: Ghim Hui's house

Camera: Kodak non-professional 2.0 megapixel

Lighting: Sunshine + flash

Make-up/hair: Wendy C.

Clothes: Models' own.

Erm, Models: Feng (it's Xiao Feng but an asian sounding model name sounds modelish), Wendy C. (it's Wendy Cheng but C. sounds like I am Eurasian - Wendy Charlize or something)


Here is how Feng and Wendy C looks like:


Very normal-looking girls.
Now, before you say,"OK WHAT..", let me tell you that Wendy C.'s face has already been photoshopped, although to a minimum. That is because she has an amazingly big nose and a big pimple under that amazingly big nose at the point of time the photo was taken.
In fact, she airbrushed half of that pimple away so you can still see a little bit of it.
The picture is made smaller so that you would not have nightmares too.
Feng looks fine though - she is naturally beautiful.
Now the target: Let's make the models look like they are, say, Oil of Olay Models. Is that possible?
Ah. I see your skeptical look.
Gimme some time, will ya?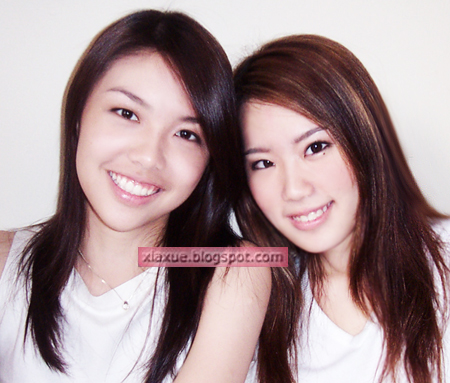 The stupid tag is in the middle coz I have this feeling some people might use the picture for friendster user pics or something. Do it! Crop us! XF (aka you!) will have no neck!
What do you think? Let's add some text.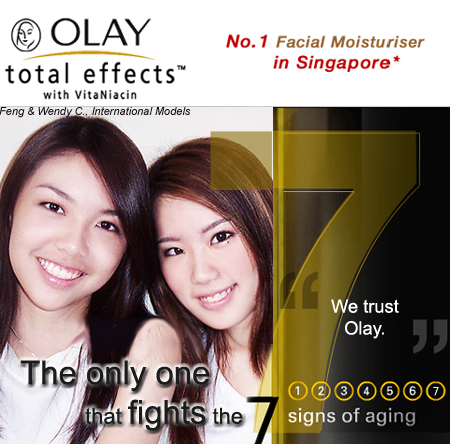 Ha ha ha ha I am damn bo liao.
Click
here
to see the original picture.
I am damn good at photoshop. Got more blogs coming along tonight for you, check back again!