Apparently some of us read the Sunday times in great detail because you all saw! Yes, a small part mentioned this site.
Now, as an ex-journalist myself, I shall not be one to fuss over such a trivial matter as going ON THE NATION'S LARGEST CIRCULATING PAPERS OH MY GOD I AM ON THE STRAITS TIMES LAH CAN YOU BELIEVE IT OH MY GOD I AM HYPERVENTILATING WHILE QUIVERING IN NERVOUS BREAKDOWNS AND ALTERNATING BETWEEN PURE NIRVANA (how to spell?) AND A THOUSAND MEGA-WATT ORGASM!!
Here's the article: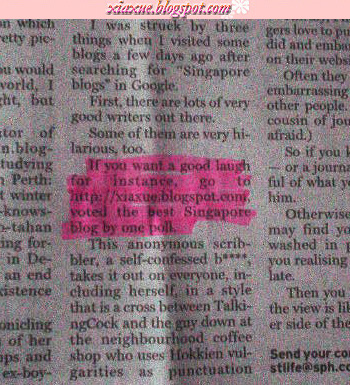 Ah, I was smiling (because I have a sense of humour) at the not-too-glorious description of me as a cross between TalkingCock and what? right, Hokkien vulgarities, until I READ: "anonymous scribbler".
If I am supposed to be an anonymous scribber, ah, then who is that girl at the top of this webpage?! *boggled*
I shall say this loud and clear then: I am not anonymous! I am WENDY CHENG YAN YAN WHO IS UNEMPLOYED!
So will this particular journalist please tell your editor (or tell yourself if you are one) that I would love to write for Straits Times? Ha ha ...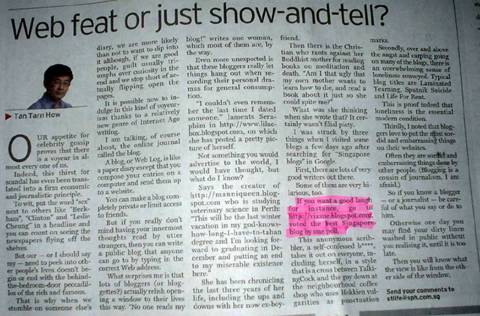 Anyway, I have decided to add some nonsense to this blog entry.
MSN chat with Shuyin
Speaking of MSN, I have a new found phobia.
Some time last year, I was talking about the phobias I have - which includes big red ants, clipping my toenails (they are reaching 1.32m in length now, and I am really proud), and MRT gantries closing on my pudgy waist.
My new-found phobia is a paranoia of people blocking me on MSN.
Thanks to Shianux who did it to me once (or twice or thrice?) when he was not in the mood to entertain my rambling, I am now paranoid as I stare at my contacts on MSN, in which a good half are permanently red in colour - meaning they are offline.
Did they block me too?
I stare and stare, hoping that they would come online and say a Hi to me, so that I don't need to just look at their old nicknames (before they blocked me) and become steadily more depressed by the second. In fact, I am so depressed now, that I am almost Gothic. FUCK THE WORLD, WOE IS ME!
SNAP OUT OF IT WENDY! They didn't block you!
No no no. Instead of believing that, I have, being the deviously intelligent person I am, found out a way to curb this phobia of mine. Instead of looking at the saddening red contacts, I have decided that I don't need to chat with them if they are constantly not online or have BLOCKED ME.
I shall block them first. This way, I won't know whether they blocked me because I blocked them! BRILLIANT!
So if you are one of those people who are on my exclusive list and yet did not bow before my godly self and chat with me but is instead constantly offline, please tell me tonight that you didn't block me and I should not block you just because I am so paranoid, alright? No personal feelings if I blocked you, I just don't like you, that's all.
WOE IS ME! Oh darkness, death, illness all behold me! Tears, despair, dingbats!!!!!!!!!!!!!!!
Do not be fooled by this inaccurate portrayal of my delusional and sad self! I am actually not happy at all!
Ate at Billy Bomber with Shuyin. My food - steak and cod fish! What a marvellous combination!
Shuyin's burger!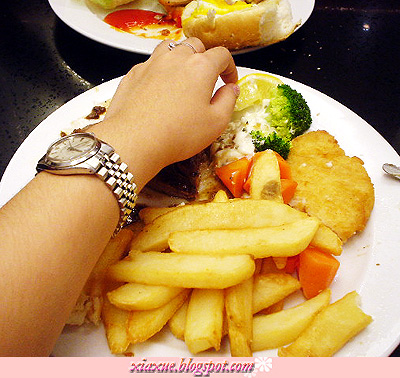 Aha! Isn't this a marvellously creative picture? My hand, imitating the confusing and colourful D & G watch ads we have been seeing at Orchard MRT. Isn't it just uncanny?! Except that my watch is a Rolex - around 3 classes higher than a stupid cheap Dolce & Gabbana watch.
Ending off, Wanyi (Shuyin's sec school friend) and Shuyin would love to blow you a kiss.
Because I am such a depressed and morbid person, I would love to blow you ... a used facial blotter.
Now fuck off from my life and stop gambolling around like a hyperactive otter on a permanent sugar high. I hope you get as depressed as me. Cynism and bitterness are good traits, so don't let anyone convince you otherwise.
I hate everyone and I shall block everyone.