FUCKANATHAN! The world is filled with stupid people. And evil people! Just to prove my point, Bush is elected
AGAIN
. So anyway, back to stupid people somewhere nearer to home: Singapore.
Today, I woke up at a freaking 0900 hours to get to Bukit Batok Driving Centre to sit for my basic theory test.
I decided to take a cab there.
And (CLICHE ALERT!) without further ado, I walked out of my rather secluded neighbourhood to go to a less obscure road to get a cab.
Unfortunately for me, there were already two guys standing at the edge of the bus stop - where I usually wait. Two guys who look like Indonesians or something - around late twenties. Ah fuck it. Let's just call them the Indonesian guys, whether they are Burmese or Bangalas.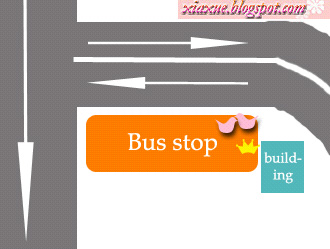 They were hovering near the bus stop, and if one had a wager on whether they were waiting for the bus in a kiasu manner or waiting for a cab in a relaxed manner (standing pretty far back from the road), one would possible put the dough on the bus-waiting.
There. In the picture. They are the pink doves coz they are sissies. More about that later. I'm the crowned princess of course.
Not in the mood to talk to anyone, I took out the basic theory test book Wong da Lawyer has kindly loaned me, and, while reading, waited to see if they were flagging any cabs down. If they weren't, then they must be waiting for a bus.
While I was still in a dilemma as to whether I should ask them verbally if they are indeed cabbing, another dilemma stepped up in the form of a tyrannic auntie.
She walked towards the bus stop, and with her fats oozing out from beneath her fuchsia pedal-pushers and cheap bleached-and-permed hair, stopped pompously right in front of the two Indonesian guys and me - who was at that point of time queuing behind them.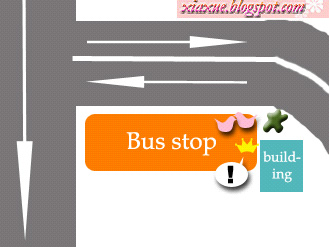 FUCKANATHAN.
Auntie is the shapeless glob of mucky green.
I took a look at my Rolex (was late), and I took at look at the Indonesian men. They were doing NOTHING to stop the fat auntie from her fucking atrocious behaviour.
In fact, they were standing casually along the bus stop like it is just another lovely day in sunny Singapore and they would have liked nothing better than to stand around and breathe in nature's wonders.
To confirm my first dilemma, I asked the two men, "Excuse me, sorry, are you waiting for a cab?"
One of the men ignored me, while the other, turning his head so slowly he might have been slow-motioned, gently replied, "Yes we are," and stopped at that. He then started on the slow process of moving his head back again to face the front.
I then said, "Erm, then isn't that lady in front cutting our queue?"
He semi-turned his head and gave me a beady eye, and, apparently deciding that the turning of his head takes up too much physical effort, decide to turn it back to the front without a further word.
I WAS INFURIATED! Hello!
LAO NIANG TALKING TO YOU OK
! WHY YOU FUCKING SO RUDE IGNORE ME!
And you know what? I HATE WIMPS! SPINELESS MEN WHO LET SUCH INJUSTICE GO SCOT-FREE, AT MY EXPENSE! HEN SHENG QI! WHY THE TWO MEN LIKE THAT ONE AH??? LIKE I AM A LITTLE GIRL MAKING A BIG FUSS!
I decided I had enough, and I marched up to the fat auntie.
(In Chinese)
"Excuse me, are you waiting for a cab?"

*Proceeds to flag down a cab while I talk, and not looking at me*

"Yeah."

"Oh, the two guys over there came first, followed by me."

"So?"

"So I think you should queue up behind us."

"Where got write must queue?"

"Oei Auntie, please don't be unreasonable hor! If I stand in front of you now, can?"

She gave me a sneer, and sniggered, "Ha, then you go back and queue lor. I stand here, I don't flag the cab."
Yeah right. If she kept her word, I'd eat Cloudy sandwiched between two sesame buns.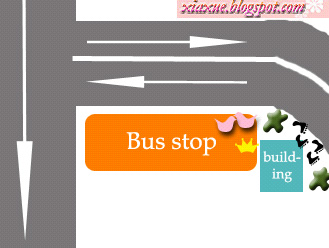 Shortly after her promise, the auntie walked further up the road where she reached a bend and can no longer be seen by the naked eye - where she can still steal our cab nonetheless. Sneaky bitch.
I had a look at the two men (still standing there like complete morons) and decided I had enough.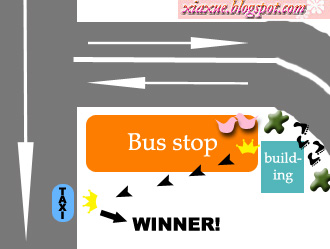 I walked out to the main road and managed to flag a cab in 2 mins - and the cab was supposed to turn into the lane make a U-turn (if it didn't see me that is), and pick up the auntie.
MUAHAHAHHAHAHAHAA!!! Who's the losers now??
(I'm going out for dinner. BRB - with a shitload more of stupid people to report about. THIS ENTRY IS NOT COMPLETE!!!)