One day, I was out with Eileen (Tan) and eating Japanese food.
To be more specific, tempuras! Oh my gosh is it called tempurae in plural?
So anyway, I was waggling the tempura around a bit and I asked Eileen, "Eileen, do you think my (former) main picture looks damn fucking cock-eyed? Coz everyone else says so."
I suddenly realised I have always had double-vision and wondered why.
Eileen took a look at me, and sniggered. To my disgust, she actually begun to drink her soup while still sniggering.
Now of course, Eileen is a very good friend of mine and I really value her opinion on whether my main pic looks "damn fucking cock-eyed".
But instead of answering immediately, she tantalized me by, after sipping her soup, looking serenely out of the window.
In fact, she looked so transquil that one might have thought the scene outside was that of the inside of a snowglobe with little white flakes floating gently down a sweet little cottage. With a chimney.
I ignored her and pretended to read the menu. I also tried my best to make it look as if the menu is the cheam-est book on relativity.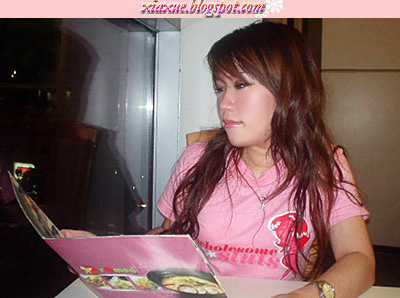 This behaviour of Eileen's continued for precisely 15 minutes. I could stand it no longer and whacked her on the head with my tempura, now half-eaten.
I would also like to digress and say that I've written this entry before because it was accidentally deleted, and therefore I keep writing repeated phrases and having a strange guilt that I am plagiarizing (myself). -_-
Eileen jumped into the air, and after rebraiding her hair because it flew around in a rage, began to pace fretfully around the table in quick, thoughtful steps. I imagine if Cloudy were here with us Cloudy would have bit her on her calves to curb such unsociable behaviour.
I rapped Eileen smartly on the head again.
Finally, she spoke.
"I was thinking deeply for 13 minutes, and I decided that it is not cock-eyed."
"
DON'T PATRONISE ME!!!
" I bellowed, spitting bits of
chawamushi
on her.
"Ok ok," said the fearful Eileen, cowering. "It
is
a bit cock-eyed."
"Alright! I'd change it tonight," I replied.
There was an awkward silence in which Eileen started to hum. In case you wanted to know, the song is "
Da di hui chun
".
"So ..." I said. "You said you were thinking for 13 minutes. What about the other two minutes?"
"Huh?" said a scared-looking Eileen, her eyes looking strictly down at her noodles.
I repeated my question, this time without the "So ..."
"Eh, I was, eh, thinking whether jellyfish were hermaphrodites," she stammered.
Hmmmmm.
I don't know about you, but I hardly think anyone would spend 2 whole minutes staring out of a window dreamily ... may I illustrate to you the look again?
As I was saying, dreamily, thinking whether jellyfish were hermaphrodites.
As a matter of fact, I think she was fantasizing about
Fei Yu-ching
, whom she recently admitted she thinks "looks very attractive for a man his age".
Never mind that disgusting Eileen.
I went home and went about the task of settling the my blog's main photo!!
So I puffed up my cushions, twirled my pretty locks on my fingers, and set the camera's self-timer!!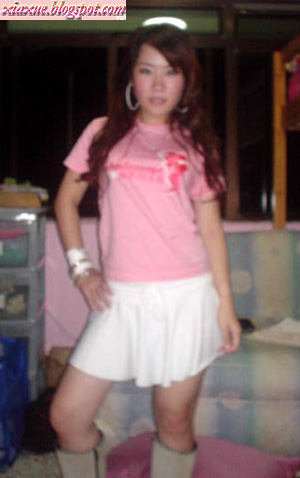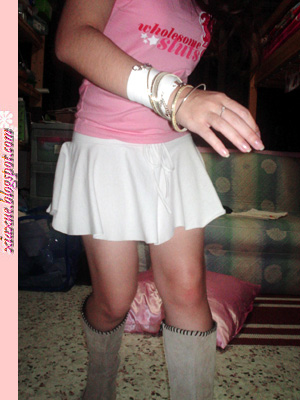 -_-
After a series of unsuccessful photoshoots, I've decided to enlist the help of my Mum.
Oh yeah the blur photo seems to have a halo on my head, ay?
And it's time to choose!!!
And
VOILA!!!!!!!
Do notice that the blue black on my knee is no longer there and also that Syphillis (my stuffed toy) is peeking out from behind! =)
Yay!!
*****************************************
Hong Kong photos!!

Mong Kok, where the famous "Nu Ren Jie" (Woman Street) is!



A menu. Duh.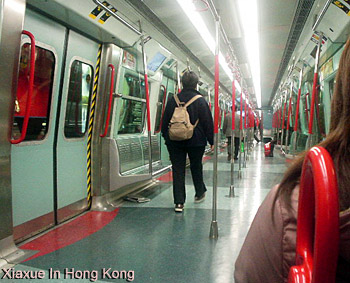 Inside their MTR, which says the destinations in three proud langauges.



Typical Hongkong street.



Old man selling sausages.
Damn those lightbulbs are bright.



Look, the waiters write their names with calligraphy! How cool is that?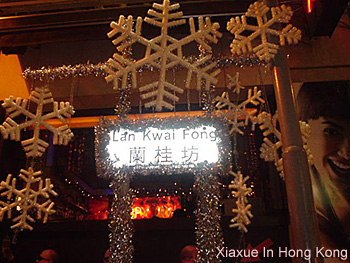 Lan Kwai Fong is the Singapore equivalent of Mohammad Sultan! Except smaller.



Hong Kong wishes you a happy 2005! Yay!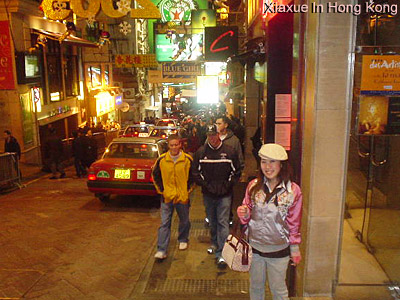 Me with a fake LV bag and looking ashamed because I was the only one wearing gloves.
It was cold ok!
And off to
Shen Zhen
!! Nothing much there, except fake branded galore! Madness I tell you. They have so much imitation there, the sellers do not only sell you their products with a photo album of their goods! Oh no! You know what they do? They show you the REAL LV catalogue, and urge you to take your pick from there.
If I had any real bargaining skills at all, my purchases would be around half the price stated here. And mind you, AAA grade!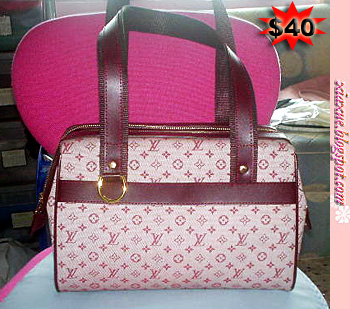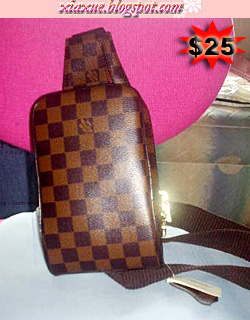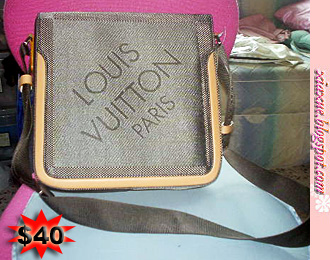 I stuck diamantes on my phone with tweezers and superglue!

Lookie what I bought for Cloudy!!
Cloudy is a bumblebee!! =)
Oh yeah and one more thing.
Eileen accidentally fell down and lost her front tooth!!! Very poor thing!
Yikes!!! Don't laugh at her ok! She's getting it fixed already. I will kinda miss that cute smile. Ha ha!!
p/s: I've got to go out already, so more blogging later on! Might be going to Zouk tonight. =)
Meanwhile, to the million or so people who told me to switch to Mozilla, here's my verdict:
If you ask me, I'd say all browsers hate me.