shTruckload of Photos!
Just pics, lots and lots of my pics, to celebrate my new-found camera!!
The LAST...

Of my fair-skinned and long-eyelashed photos...

My lashes are REAL! Stop accusing me.



Nice right my Ikea lights?
Look like thoughts coming out of my head!



I love my M.A.C lipstick and Prescriptives lipgloss!


Spot of acrylic paint on skirt. Tsk.


Nice? Hui Fen helped me buy from US!
Only $105, and we are selling in SG at $180! Very bling bling!
I LOVE IT!
Suddenly, I decided I am very sick of how I look and decided to go for drastic changes!
First, a hair dye.

Yikes, the black! Still, a good hair day. =)
Kimage - $26 by students.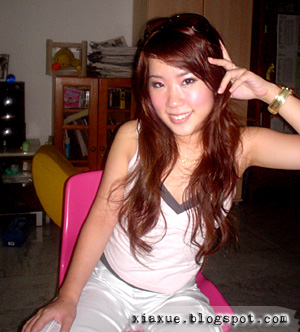 Tadah!
Still look very boring ...
I SHALL GO TAN!!!
And highlight my hair blonde! Unfortunately, I also went to perm my eyelashes, and it got depressingly frayed at the ends, so I cut them off. =(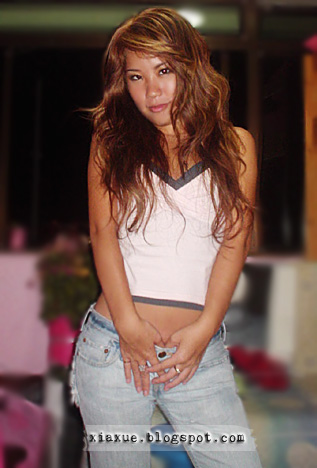 Yay!!! I look different!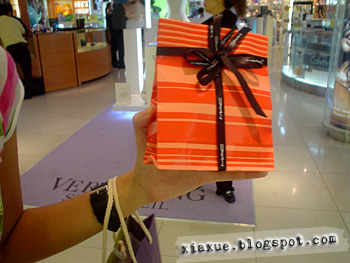 Blogder Ginger bought me a birthday present to be collected from the M.A.C counter!
Shuyin holds it for me.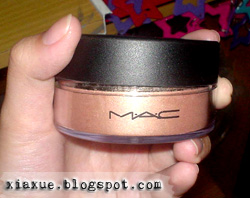 Bronzer! So nice of herrrrrrrrrrrr!!



And this is how much tanner I have gotten.
In case you are thinking why there is a line above the gstring tanline, I was tanning with a rather high-waist normal bikini bottom at first.
*sobs* Such a gorgeous tan, and it belongs to me!!! And it is almost free!
Just in time ...


For my CNA interview with Melvin Yong on 360 Degrees! It was live, and I didn't know, so I didn't ask you guys to watch ...
Adrian says he would like to clarify that the following photos are edited by me, and he is not approving (but I forced him anyway)to have them up here and he is not a model (per se).
After twirling his hair I forced him to take a photo of a smoldering spoof shot of how vapid male models always look.
Too funny to let go.
NO MORE CELERY!
Went out with Kelvin, Colin, Adrian and Hui Fen...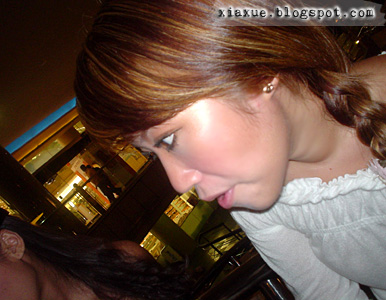 Wah lau, Shuyin's book... And I look weird here, somehow.
The fellow who put the book there:
Pretend only.
KM8's sentosa party! With Eileen Wee and Tan, and Adrian and some others...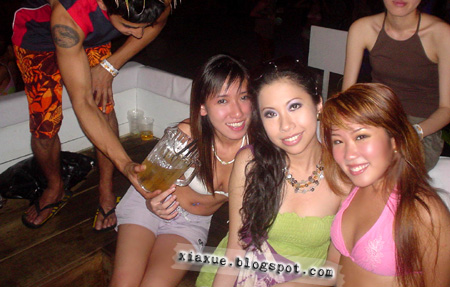 I swear I will never be willingly fair again.
The guy like trying very hard to buy Ginny a drink. Haha!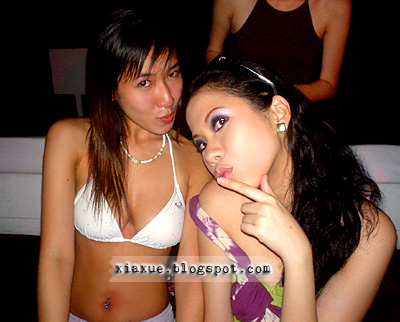 Ginny and Eileen (Tan)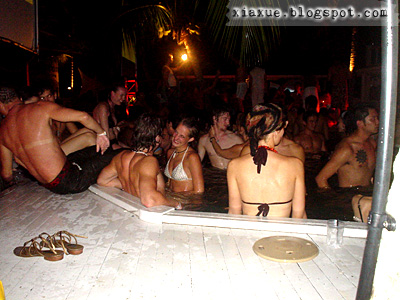 In the middle of the VIP tentage, they set up a small pool.

The gorgeous Angmohs inside are almost too good to be true!

BUT... The water is damn murky.
Sex? You bet.
If you get impregnated inside, you wouldn't even know who it belongs to.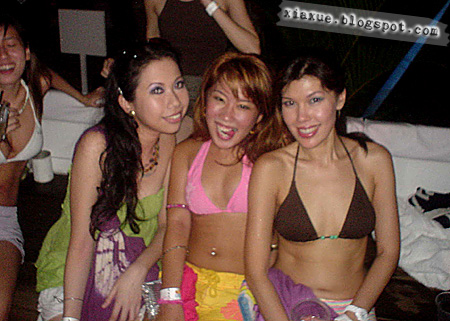 Pity the picture turned out blur. After sharpening it looks grainy.
My two favourite Eileens!
For Shuyin's birthday
we (that is Weili, Wanyi and I) bought her this:
Just as I was walking out of Guess in Taka, I saw ... and decided ...
To bluff her!
We bought her a disgusting default Perlini's pendant with a little heart or something as disgusting...
And also!
Cheap $1.90 stars from Popular!
I tell you, when she open the gross present she confirm will cry! It is too gross to be true! But in the end I think she managed to guess that we are bluffing her. Pui. Don't know how to act is it.
This is what she saw when she turned to the back of the card ...
Haha! We are actually very nice to her!
I bought a shitload of retro-coloured papers (she likes all the bright colours) to make her card, and printed out her name in a nice, computer font.
Wah lan, the S very difficult to write. And no, I didn't trace that (such thick paper, trace my ass), and it IS written free-hand.
Add colour!
Fill it up and add glitter!
Happy birthday mei nu!! Although this is very, very, very late. =)