Marine Parade Fun!
I was approached to go for a sponsored tour of the new Marine Parade Central!
Well it is like this: Marine Parade Central is quietly undergoing a transformation, and instead of the quaint, dreary place it used to be, it will evolve into an exciting hub for health, beach and outdoor products and services, being a 7 min walk from the East Coast Park. The shops will all work hard to cater to the younger crowds and new customers!
Because I'd be doing the community a service by introducing goodies to my readers and also because I am a cheapo, I pulled Shuyin along to examine some of the shops around there. After all, I think it is somewhat unfair that most people only go to the downtown shops, which are far over-priced. There are gems to be discovered in the heartlands too.
Of course, only some shops are participating in the Great Singapore Sale, and here we go!
First Stop:
FOOT REFLEXOLOGY
!
Tang Shan Chinese Medical Hospital Pte Ltd
@Blk 86, #01-670
The place is very big, and spanking new!
The medical hall. They sell Chinese herbs and also things like Deer whip (hmmm, very long and skinny) and sea horses! hahaha...
Upon stepping in we realised that it is not only a medical hall but also the only Chinese Medical Hospital in Singapore, with doctors from China coming in.
In conjunction with the GSS, the shop is offering
FREE
foot baths for everyone (weekdays only)! They can have 18 chairs at one time, so go! Good for sore feet after a lot of shopping, hee...
A big picture of me holding the medicine box. I am only putting this pic up coz I think I look nice in it. Did I already mention I love my tan? Ok, I did, a million times. Don't understand why I spent 20 years avoiding the sun. *ditsy look* =D
Ooooh! The water is damn hot ok!! Shuyin managed to put her feet in after a while, but I had to request for colder water. Very lousy.
We thought the foot bath was it, but ...
There is reflexology! It is my first time doing it.
My reflexologist said my calves look very fat (hmpf!) because I have water retention. He then proceeded to push my muscle-line along my calf, and I tell you, in contrast Brazilian waxing feels almost heavenly.
There. Shuyin, who was surviving her foot-rub with ease had fun taking pics of me alternating between pain and laughing convulsions. She laughed at me! BITCH!!!
I would have smacked my reflexologist with the chinese medicine box and left in a jiffy, but he pacified me to stay by saying my legs will get thinner, he promise.
It seems he is right! I was skipping in glee (not really, pain lah) until he said must maintain and do often or it will come back.
Shuyin's reflexologist was good and predicted very well, from her feet, what ailments she has.
Mine said my kidneys, intestines, and heart are failing me. Oh dear.
The aftermath of the massage is damn shiok.
For GSS period,
+$23 for 10-15mins Footbath & 40mins Foot Reflexology (Usual price @$29)
+ $33 for 10-15mins Footbath & 60mins Foot Reflexology (Usual price @$39)
+$38 for Whole Body Massage 45mins (Usual price @$45)
+$18 for Neck/Shoulders/Back Massage (Usual price @$23)
Next up, after making feet happy must make stomach happy lah!
DESSERT
!
Desserttalk
@Blk 82, #01-622
A small shop selling all sorts of traditional, and not-so-traditional dessert, like Sesame paste, peanut paste and tang yuans. Cheap, and difficult to find such stores nowadays, so Shuyin and I went in in a rather embarrassingly fast manner.
We ordered Steamed egg custard, Gingko barley with tang yuans (your choice of sesame, or peanut), and Black glutinous rice.
Wo men bu ke qi le hor...
With the young boss Agnes! Her family, who owns the business, wakes up at 4am to make the dessert (her mom does the recipes), in which all ingredients are all self-made. I.e the yam paste is pounded by real yams, etc. Very healthy...
Proof it is good!
Shuyin agrees! Seriously speaking, I really like the steamed egg thing. It'd be my creme brulee anyday! I wanna go back...
Prices range from $1.50 to $4.00.
For the GSS period, Tues to Fri from 2 to 5pm, Green Bean Soup with Sweet Potato for 50cents! Cheap!
Note: Closed on all Mondays!
3rd stop:
PET SHOP
!! Oh my gosh I am so excited, the place is super big lah! It is 3 units across and sells all sorts of pets.
Sam's Pet & Aquarium Pte Ltd
@Blk 82, #01-606/608/610
The place has fishes, birds, cats, dogs, bunnies, hamsters and the like, and all sorts of pet products and even books!
One bigass arowana. It has a super arrogant face, like "tiao-ing" you. I'd be too if I am worth ... I don't know, $20,000 or something?
Very big. When he flaps his tail, a small tsunami hits the parrot fishes, or whatever those are.
So cute, it is in the chimney!
Hee
Baby Golden retriever
Shih Tzu! So cute, it's lying there like carpet! I couldn't control myself and asked to carry it. Wrong move, however.
When the person approached he got into a frenzy and started to hop quite madly.
You know, I reckon I have a good idea how the pictures in The Ring got distorted. Hahaha
Bunnies bunnies!
Netherland dwarfs! Absolutely adorable! They are so small. I wonder if the glass tastes good?
Ball of fluff!
Can someone please buy it for me? $200 like that. I don't think Cloudy will eat it up lah hor, it is so cute...
We visted a
confectionary
next.
Chyn Nonya Cakes
@Blk 82, #01-614
Although its style is traditional, its products are not so. We saw many new innovations for different breads and the cakes look like a lot of efforts went into designing them.
I love such cake shops, the smells that waft out of them always remind me of my grandparents.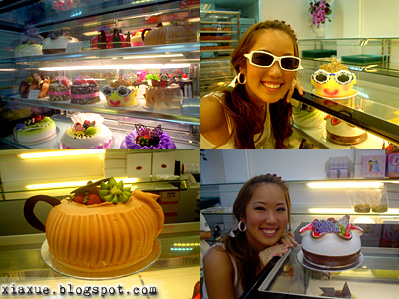 Nice hor the designs? Come to think of it I wonder who makes the default "Happy Birthday" sign sticks. Must be making a lot of money, it's a monopoly.
Shin Chan's head got bra!
Although Shuyin and I both have *ahem* near perfect eyesight, we bravely stepped into an
optical shop
.
Ming Optique
@Blk 82, #01-602

The boss, who has been an image consultant in Orchard for 9 years, imports many groovy glasses. =D
What you think of the complementary colours?
Shuyin is a teacher. (Psst: Match the bittergourd bangle, though she insist it is a flower)
I handsome not?
I think we are damn bo liao hahaha...
+ Progressive/varifocal lens at special price $180 with normal prescription range only (Usual price @$260)
+ 50% discount on selected models (green & yellow tags)
I tried happy flower wedges at
Grace Fashion @Blk 82, #01-620
! We didn't really take much photos there though, but I must put this up! Got shiny legs from the reflexology!
Last but not least, this is what we liked the most:
Nails
!
Jin Qian Fu Beauty Nail
@Blk 81, #01-628
Once again, a spanking new place. Lovely red chairs for pedicures, and many cheaper-than-usual services.
We shall now embark upon checking out the manicurists' skills...
First a manicure!
I thought it would be one of those paint-and-done-with-it things, but no! It was a full manicure of cutting the cuticles, a damn good hand massage and all... plus my manicurist is very immaculate and nice.
And the results:
I love it! The paint is darn good, I went to Bintan and back, and with all the rock-climbing and stuff it didn't even come off one bit. Think it's usual price is $20 for the full works.
Pedicure!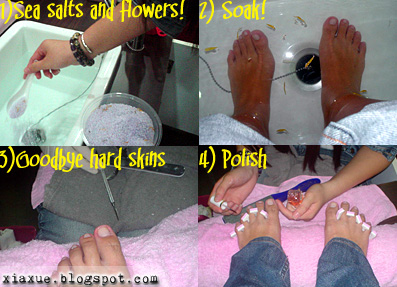 Oh bliss, bliss. Two foot massages in two days.
She does the art for me. Very, very pretty!
Shuyin's one also darn nice. Looks fake even!
+FREE orange juice with the full set service*
+$38 for full set manicure & pedicure (Usual price $50)
Sigh. What a fruitful day.
p/s:
Want phone numbers and more details? You can download the GSS file
here
!
p/p/s:
Isn't it great being a reader? Get freshly squeezed orange juice if you are the first 100 to turn up at the shops I featured! Just show proof that you read my site, like showing a printed copy of the entry. =)