A Xiaxue Timeline
There you go.
This is possibly the most beautiful blog in the WORLD.
Isn't the graphic fantastic? Aren't the gently quivering wings just lovely? Doesn't my head emit the most exquisite of snowflakes?
Credits, of course to my designer Alan, of
shearnation
.
Speaking of him ah, I owe him like a thousand meals, because he is supposed to just do the flash and graphics, but he ended up doing half the layout for me. :)
I've not seen a designer so dedicated to perfecting his work before. Even for just the graphic itself (the full size I will show u guys in a bit), he changed like 3 or 4 versions until he was satisfied. At one point he even added in a raccoon. -_- ("Why you go put the raccoon?" "Make it look more nature mah...")

Have you seen my raccoon?!
The raccoon looks like it doesn't know why it is behind my head.
So anyway, I must mention
Oonteng
also, who did the nice menu buttons for me, and
Chester
, who helped me a lot when I was pulling my hair out, doing up the layout for the site.
Thanks so much you guys!!!!!
Here's a timeline of what xiaxue.blogspot.com looked like through the years.
In April 2003, when the blog just started, it was the default blue blogger design (which obviously is not available now).
I learnt a bit of html, and changed the background to a bright, terrible pink that could eat your eyes whole.
And then I decided....
That's right. This blog used to have that photo as a background, so... get this: My nude-looking photo will be there, permanently in the bottom right corner, as you read my blog. The tables moved. The background didn't.
And yes, it was blue. Can't find a damn pink snowflake, can I?
And then I decided I might as well put my face on top.
I download my first blogskin from blogskins.com, and starting playing around with it.
The site was then changed to red: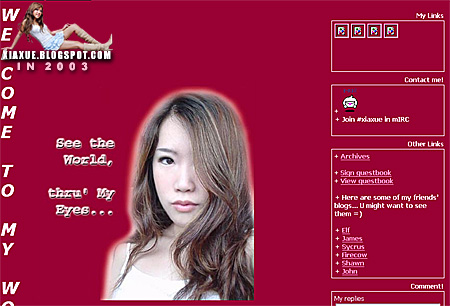 According to the way-back machine, this was how the
site looked like, then
.
Don't ask me about that freaking photo. I've forgotten that it exists! Wah lau, it's really trying hard to act sexy! I had a good hair day that day.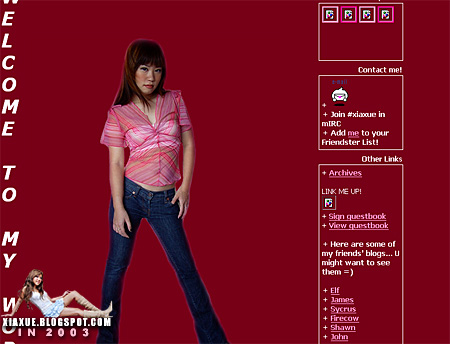 The photo was then changed to this one, where my legs are ridiculously skinny and I look like you ate my dog up.
This layout also sparked the
first ever flame war
my blog had, because someone (he is insignificant now) commented on how much the red background looks like menstrual blood.
Eh, I don't know about his menstrual blood, but my menstrual blood is a baby pink colour, tinged with light gold glitter. Glows iridescent in the toilet light sometimes! :D
Do not, at any point in time, forget how superior I am. You emit dandruff off your head. When my head wants to emit things, it emits snowflakes.
In february 2004, I had enough of the "stumpy arms" tease and changed the layout again. This time, it was pink.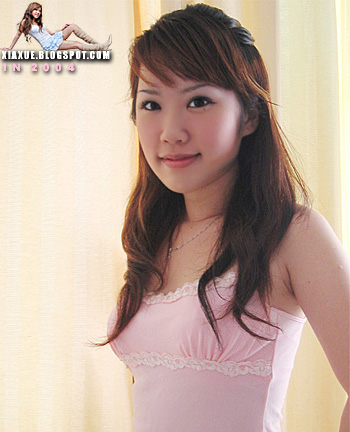 By June, I got sick of that shu nu picture, and changed to this
slightly cross-eyed photo
:
Half a year later
, my newly-previous template is formed:

Goodbye...
That will be the past. Behold the newer, better, Xiaxue. :)
I slept at like 8am for the past 5 days or so, doing up the sidebar and stuff. You like it? I love the words at the top right corner, haha... :D
Spread the joy! I did four new link buttons, so feel free to use them on your website. My hosting plan has unlimited bandwidth now!
Here's
the wallpaper
, if you want to download it, and let me know which is your favourite part of the site, and also if some browsers screw it up!