Indulgzence - Round 3 of yumminess!
Advertorial
Yippie for me! Christin from Indulgz (Bistro) once again invite me and 5 friends to go for food tasting!
I'd got to say I love their attitude. They are constantly coming up with new menu items and their new creations really never fail to impress the hell out of me.
It's so exciting that every time I step into their restaurant (whether I go there myself or via their invitation), there are refreshing novelties to binge on!
This time round,
here are the people involved
: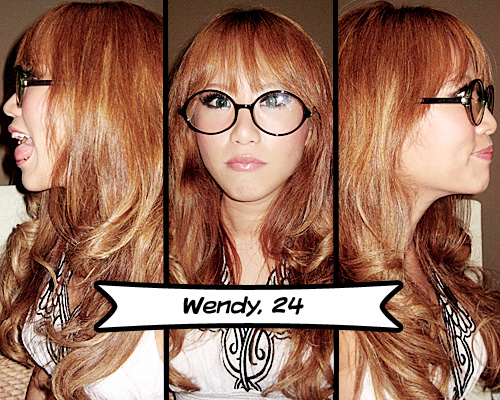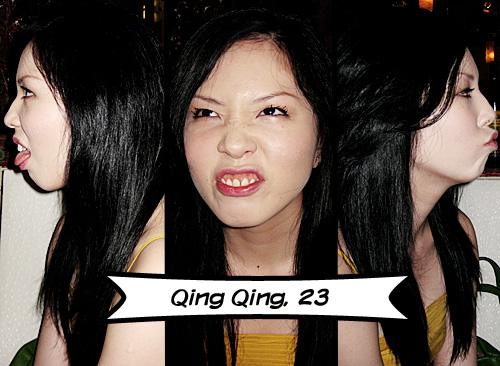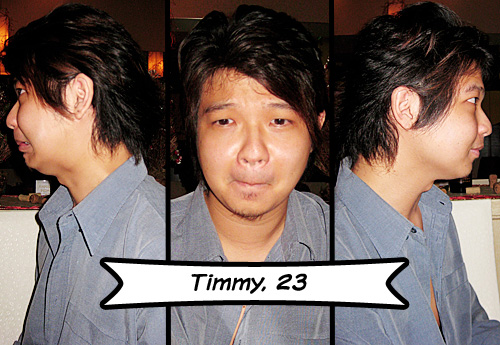 Now for the customary pose at Indulgz's front door:
I was trying to act chio but end up looking grumpy... Bah!!
With QQ. My hair looks really blonde without flash!!
We start off the exciting meal with some cocktails. All of Indulgz's cocktails are created in-house and are one of a kind!
Cocktail 1:
Olivia
The name Olivia is inspired by one of Indulgz's staff. Apparently, Olivia is a very
sunshiney
-type of girl (but a tad wild still) and is loved by everyone!
Based on her character, Olivia (the drink) is created with Lychee Liquor, Cointreau (orange liquor), cranberry juice, lemon, and a secret ingredient Christin refuses to reveal.
It is very sweet (for an alcoholic beverage) and yet, surprisingly potent!!! It reminds me a little of fruit punch (not the cheap kind, but the good kind) with a lot more character. The glass is coated with Malibu too!



QQ:

It tastes like Cosmo.



Tim:

Is there cocoa butter in there?



Mike (alcoholic):

I like it. - proceeds to drink it all up -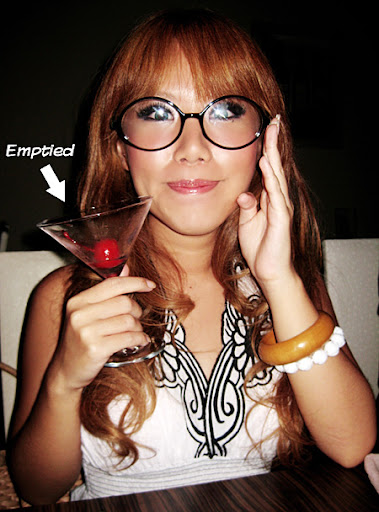 We finish Olivia up! I look hot with my glasses. LOL!
Cocktail 2:
Strawberry Shortcake
If you like strawberries and cream you will really like this!
I love it, even though I typically don't like alcohol.
It's very milky, sweet (little sour too), creamy and smells heavenly - best of all, it comes in a pretty pink colour!
The glass's rim is frosted with thick sugar icing for maximum yums.
Mocktail 1: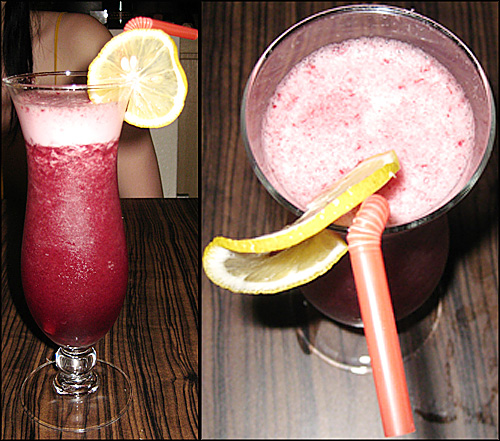 Summer Berry Holiday
I was surprised to find this drink fizzy!
Made from real berries, this is frothy, sour with a sweet aftertaste, and is a little like sparkling Ribena except better!
There are real berry seeds inside, and this drink is prefect for hot days where you want something more refreshing.
Since you all love KK so much I thought I'd supply ya'll with her photo.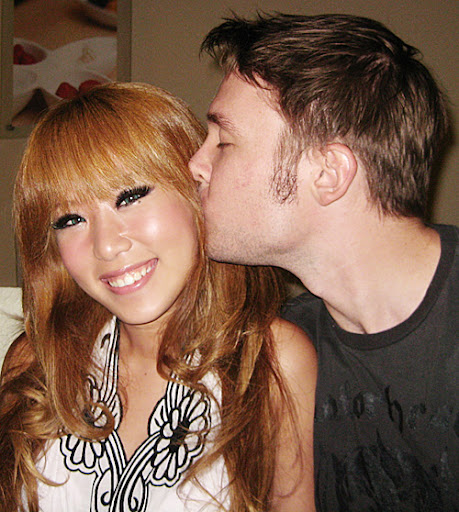 Mike and I in love after our Summer Berry Holiday
After the drinks our food comes!
New item!
Tempura Battered Egg-Tofu
with Tabasco Lemon Mayo
When I curiously asked Christin what the thing being battered is, she just smiled at me and told me to take a bite and see for myself.
I did, and wow....... The tofu's soft like cheese but milder, and simply melts in your mouth!
You got to give it to Indulgz. Because egg-tofu might be bland by itself (although I love egg-tofu), they conjured up a sauce just for it: Tabasco lemon mayo!
You've got to try it! A bit spicy, a bit sour, and creamy... Zing! Full of oomph!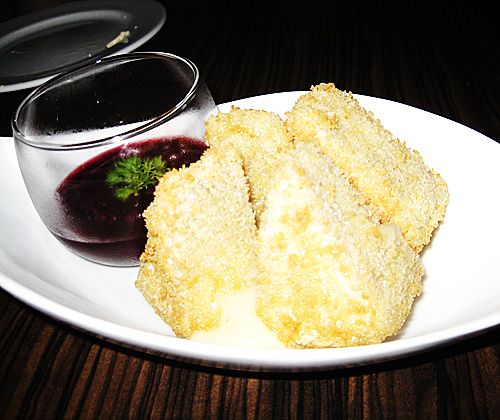 Deep Fried Camembert Cheese
with Mixed Berry Compote
This is Indulgz' signature dish and I've had it many times before, but Kelvin, QQ, Tim and KK have not.
Since there were four pieces, the n00bs got a piece each, and Kelvin offered to share a bit with Mike.
Unfortunately, once he started, he then refused to give any to Mike coz it's too good.
Deep-fried cheese with a wet, melty inside (oozes out), and mixed with berry sauce? Cmon, that can't possibly go wrong!
Tim:

Mouthful of Heaven



QQ:

Hen hao chi



Kel:

None for you Mike!
Next up:
Chicken Bolognaise Melted Cheese Fries
Everybody
loves
Indulgz's cheese fries!
Their cheese is fantastic and has just the right texture; the tomato sauce very tasty; and the meat bits succulent.
Now, instead of beef, the fries come with chicken (mixture of thigh and breast, so it's not dry), so that it is more consumer-friendly.
QQ loves it:
After a
remarkably
short time
A plate is simply not enough for the 6 of us, and thus...
Poor Tim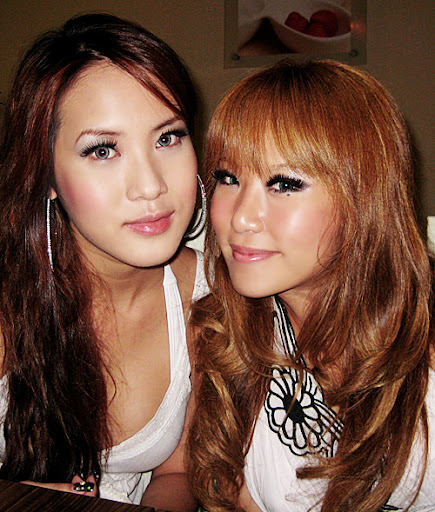 Irrelevant pics
We have soups next!
Wild Crabmeat
and Fresh Thyme Soup
New item!
I demand to know how Indulgz does its creamy stuff! The cream is so rich and everything that's cooked with it is crazily delicious (ie their mushroom soup, omggggg).
This new soup is no exception! I think it tastes like a bit like lobster bisque mixed with cream.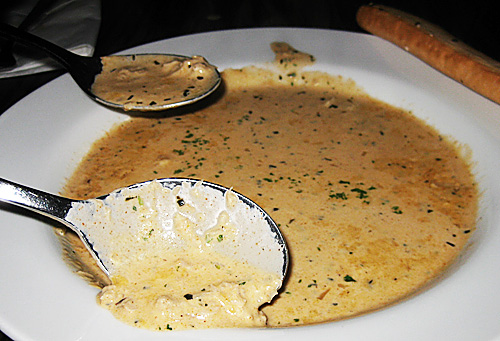 Each spoonful comes with
loads of freshly plucked flower crab
(omg salivating), and comes with a small biscotti.



Kel:

It tastes like a non-spicy laksa with a seafoody taste.
You'd think a soup like that is tough to beat, but here comes contender no. 2:
Wholesome Wolfberries
and Seafood Broth
At first glance this seems bland compared to the first soup, but I found myself slurping this up non-stop!
The clear broth first tastes like a traditional double-boiled Chinese soup, and then you taste the seafoody taste in it. It's tasty, yet very light, and you'll not get sick of drinking it.
It reminds me of the soups my grandma used to cook. :)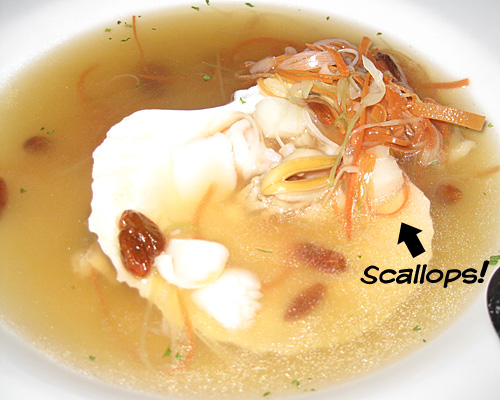 Contains scallop bits, chewy squid, prawns as well as mussels.
KK:

It really cleanses your palette.
I did a poll and QQ and Kel prefer soup 2. Tim, KK and Mike likes to crab one more!
I'm neutral. I cannot decide as I like both!!!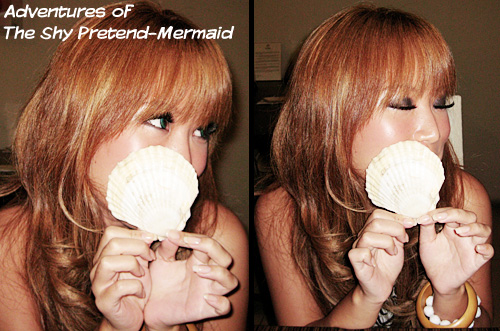 Stop asking me, I'm shy!!!!!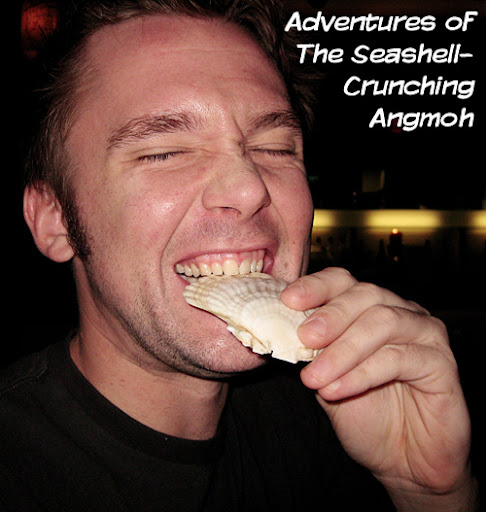 My BF is crazy.
At this point, Kelvin and Mike started to giggle and laugh... Apparently, Kelvin told QQ a joke he came up with that's very lame...
Poor QQ
The joke goes like this:
Mike, audibly to me:
Do you want to see my cock?
Me, startled: What? Nooo...
Mike: Coz if you want to I can whip it out right now, you know.
And before I can answer, he shows me this:
.
.
.
.
.
.
.
.
.
.
.
.
.
.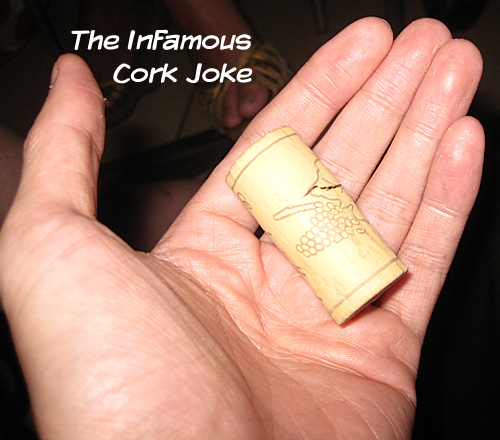 Kuakua!!!!!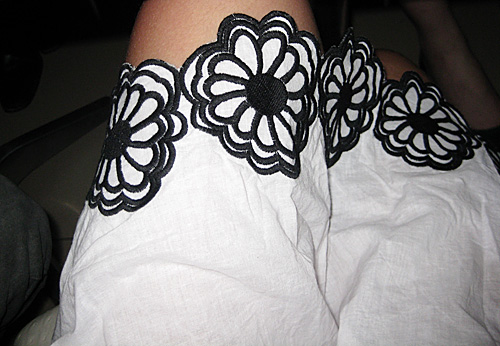 Ahem. My skirt hem. I know it's irrelevant but it's chio!
On to our next dish!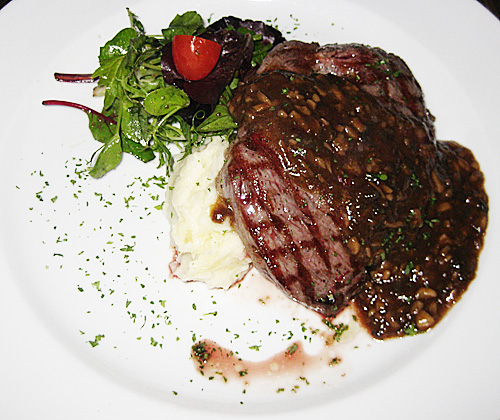 Char-Grilled Ribeye Steak
with Red Wine Duxcelle Sauce
You know, the last time I had an Indulgz food-tasting they served us Ribeye steak too, and that was damn good.
This time round, amazingly enough, Indulgz managed to outdo itself.
Why? The difference is the
SAUCE.
Red Wine Duxcelle sauce is homemade with a mixture of
chopped Portobello, white button and shiitake mushroom
!
On first glance it looks like your typical brown sauce, but on first taste, it will make all the other brown sauces you have tasted pale in comparison.
I personally don't like sauces on my steak because I feel it takes away the flavour of the beef, but this? Very very complementary.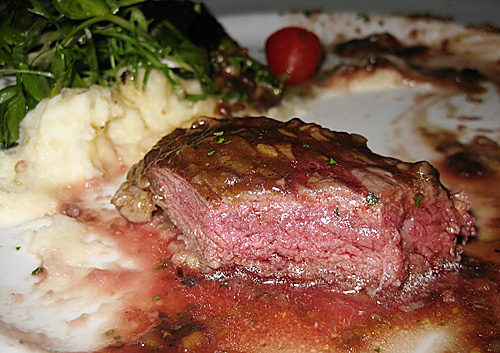 I haven't even started on the beef yet!
The beef... omg! Ribeye is the second best cut of beef (after tenderloin), and Indulgz's beef is chilled and never frozen, so the meat is tender, sweet, and crazily juicy.
Writing this is making me feel very hungry. :(
KK:

Orgasmic


QQ:

Burst of flavour with each bite!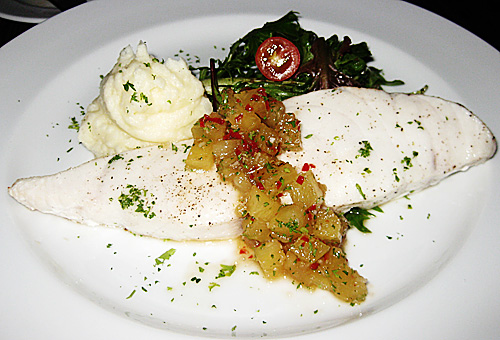 Butterfish Steak with
Pineapple Salsa
Indulgz' signature Butterfish Steak - now with a spanking new salsa!
This time round, pineapple instead of mango is used, and everyone seems to agree it is a even better blend with the fish!
In case you don't already know, Butterfish tastes a little like codfish, except it is more meaty (vs codfish is a little flaky).
Because of the intense taste that both codfish and butterfish has, it is possible to feel a little "jelat" after a while (although I don't think so la), but that's what the salsa is there for!
The sourness of the pineapples, then mixed with the fish, is perfect.
Comes with Indulgz's famous truffle-sauce mashed potato and mesclun salad.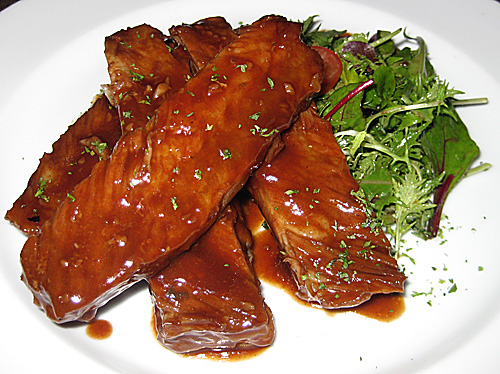 Oven-baked Pork Ribs
Ever hear the term St Louis pork ribs and never knew what it means? St Louis is actually a cut of pork ribs, and it's the biggest cut there is.
Dish comes with FOUR humongous chunks of ribs, and are marinated for
2
days in Indulgz's secret sauce (revealed to contain white wine and vinegar) for the fullest taste and softness in the meat.
Love ribs! I like the fatter meat around the bones, and although these ribs are not (that) fat, they are still very juicy and not dry at all.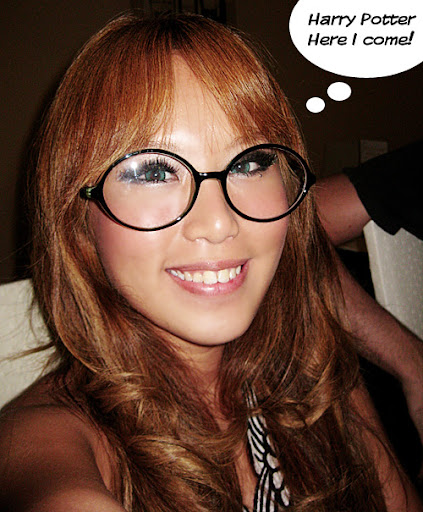 Me chioness
Seafood Platter
w White Pepper Sauce (for 1)
This has got to be the stellar item of the day!
Everyone got very excited when we saw that the platter contains
one HUGE slipper lobster, one LARGE tiger prawn, TWO bigass mussels, and TWO gigantic scallops!
QQ grabs the prawn head~!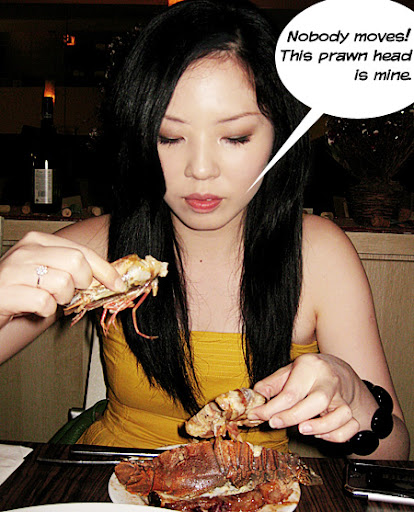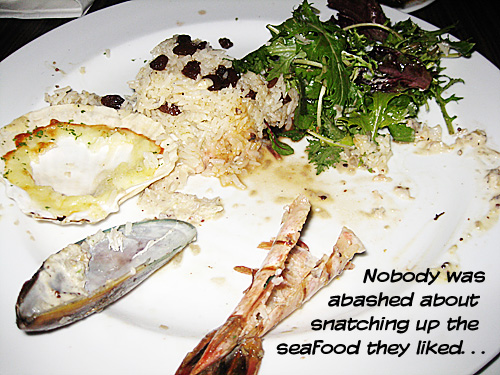 The seafood were all EXTREMELY fresh amdeverything was very, very tasty! Yes, even more tasty than normal seafood served outside!
When asked why this is so, Christin explained that the seafood were all marinated in their secret recipe (containing white wine) for
at least 2 days
before serving!
Comes with a cheesy, creamy homemade white pepper sauce, which does not take the attention away from the seafood but rather goes along with it like a faithful sidekick.
Comes with Oriental butter rice and mesclun salad.
And the best part? This is the seafood platter for 1! Imagine how awesome the "for 2" one will be like!
Imma order this the next time I go to Indulgz. :D
If you want to as well, remember to call them to reserve this as they create this in limited portions to reserve freshness.
Flaming Pasta!!
About to be flamed!
This is supposed to have flames but my camera can't capture the pretty blue flames, so you have to imagine it yourself...
I crudely draw the flames on.
Linguine tossed with garlic, smoked salmon and mussels, flamed with Cointreau in front of your eyes!
It's perfect for those moments when you dine with someone you have nothing to talk about. You two can then discuss the flaming and how it's very pretty.
The alcohol taste on the pasta is a
tad
strong for my taste (Christin assured me that it will evaporate after a while) but all the boys and KK said it is very shiok!!!!!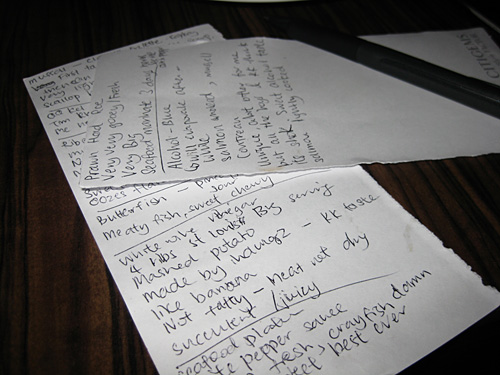 My notes for the day
And everyone started cam-whoring...
Next, full to the brim, we had
Japanese Curry Baked Rice
I thought I took a photo of the inside but I guess I didn't!
Kaykay especially loves this. Underneath the melted layer of cheese is chicken, mushrooms, carrots and potatoes in chunks - not to mention butter rice with Japanese curry (not spicy) fused into the rice!
This new style of cooking Japanese curry is surprisingly good!
Tim:

Even I think the portion is very big!


KK:

Comfort food!
In the end, here's everyone's fav dish of the day:
Tim:
Ribeye steak
Kaykay:
Steak/Baked rice
Mike:
Ribeye steak
Me:
Seafood/steak
QQ:
Seafood
Kelvin:
Seafood
Dessert!
Lychee Smoothie
Made with real lychees, lychee juice and a base of ice cream! This drink is not too sweet as we will expect from lychees, and the milkiness of it makes it a very surprisingly blend. But yet it goes really well!
Think this will be a good drink to have to polish off a hearty meal.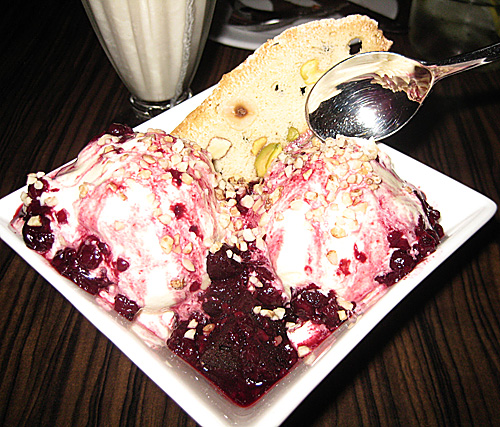 Warm Berry Trifle
If you think this is just ice-cream with some berries on top, you are wrong!
Hidden underneath the ice-cream is a base of warm, wet double chocolate brownie! This is Mike's favourite dessert so he was hyperventilating when he found out about the brownie. :)
Also comes with 2 scoops of smooth vanilla ice-cream and topped with warm summer berries compote, a sprinkle of roasted almonds and a slice of crunchy biscotti, which KK ate up.
Mocha Thickshake
This is made with real chocolate powder and is sweet with strong coffee inside! The taste is instantly identified with that trademark coffee aroma, and the drink has little crunchy bits of coffee beans blended inside.
Kel's a coffee addict and demanded the whole glass for himself.
Belgium Waffles with
Vanilla Ice Cream
and Peaches
3 pieces of warm Belgium waffles are served with smooth vanilla ice-cream and cubed peaches, with a drizzle of chocolate fudge.
Waffles are normally light and a little hollow, but these waffles are compact. I know this sounds weird, but you know how sponge cakes are very holey but good cheesecakes aren't?
Anyway these waffles are very thick and creamy la! It's different!
It has sugary bits inside too, and reminds me a little of vanilla and caramel. :D
Everyone made me cut the waffles for them
Cookies and Cream
Made with real chocolate cookies blended with vanilla ice-cream and topped with whipped cream + cracked cookies!
Oreos! Not too sweet but still very rich and creamy!
WE FINALLY FINISHED OUR MEAL!!!!!!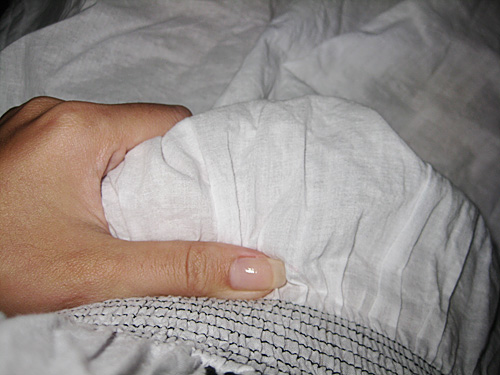 My tummy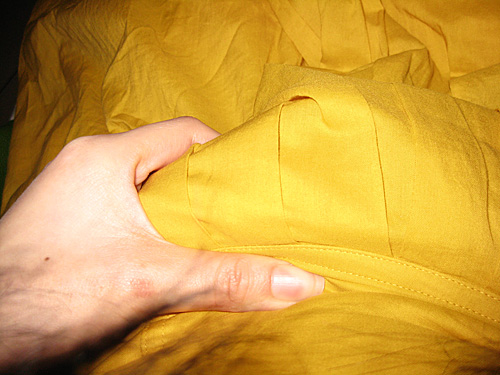 QQ's tummy!!
Timmy and KK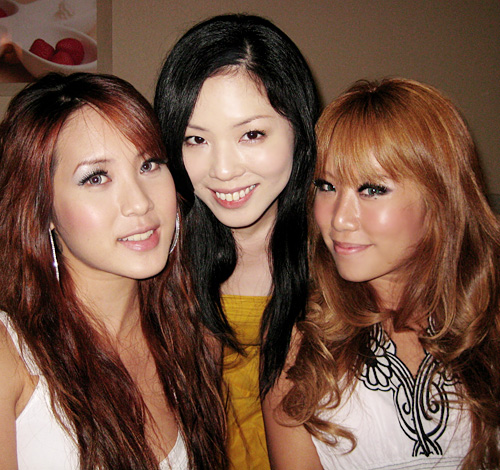 Us girls
Group shot!!
Lastly, Mike being cute!
So ke ai! I love him, double chin and all :D
*****************************

Set Lunches are available from 11.30am to 2pm Tues to Fri! From $10.90+ for the daily changing set lunch to $20.80+ for the Executive Set lunch.
*****************************

Getting married, or thinking of getting married?
If you want to but don't want the hassle, maybe you can give
Indulgz Weddings
a try!
They are
not caterers
for weddings, they are
coordinators
- just like wedding planners except... They don't charge like wedding planners!
They target for ROM receptions, where ROM packages are customized within budget, with no extra service charge or hidden cost.
All couples have to do is to provide a budget, and Indulgz Weddings (IW) will help to fit all you need (buffet line, dress, photographer etc) into your budget.
Because they do not charge like wedding planners, IW will be able to give you genuine advice on how to save on the services required for your wedding. Being a company, they are able to negotiate much better prices for you!
Christin tells me she set Indulgz Weddings up because of a passion, and many of her working partners are her personal friends, so she can get discounts and pass them on. :)
Indulgz is situated along Tan Quee Lan street, opposite the Bugis DHL balloon.

Call Indulgz at

6238 7032

,
or email at reservations@indulgz.com for reservations.

No harm trying Indulgz Weddings to get your customised package if you
intend to get married. For a no obligation package, send your
enquiries to weddings@indulgz.com. Check out their website at
www.indulgz.com to see more!