Happy day everyone!!
I am elated!!

I am most glad of all coz Munkysuperstar, my managing company as well as the production company for Xiaxue's Guide to Life, approached Dr Georgia Lee...
Dr Georgia Lee is of course the most famous aesthetics doctor in Singapore, right? Right.
AND SHE AGREED TO DO LIP PLUMPING AND BOTOX FOR ME FOR GUIDE TO LIFE!!!!!
Happy beyond words can??
So yesterday I did
lip fillers
and
botox
on my jawline at her clinic (like exactly what Rozzie did for Girls Out Loud) and I AM SO PLEASED!!
You know how my smile used to be very very GUMMY? Now, because my upper lip is fuller and more pouty, cannot see gums anymore!!
And botox is done for making the muscles at the side of your face smaller so that your face will look thinner!
The video will be out soon and I will post up photos also!!
So far EVERYBODY said the lips are nice, but the botox cannot see much diff yet.
DR LEE IS FREAKING AWESOME OK!!! I love her so much imma do free advertorial for her once I get pictures!!
Don't worry don't worry... I am not addicted to plastic surgery ok! These are non-invasive (are they?) and effects are only temporary. And
complimentary
of course I do!
Secondly, I am happy because my
shopping
arrived!!
I bought loads of crystals from Artbeads.com to zhng stuff! They've got more choices than Arab street, so why not!?
Anyway, my sidekick is
STILL NOT WORKING
. Yes. I bought this little chip that you insert WITH your sim card, and it worked for 1 full day.
Then it stopped working. So now the GODDAMN phone is still locked!
I bought another unlock code but it will only arrive on August 22nd. By then I die already lor!
My Juicy desk accessories set, bought for $55 USD!! -_- That's not counting shipping.
It's so chio though...! Unfortunately it is made of paper. Kuakua!!
And my lovely mouse!!!!!!!!! $45 USD. SO HAPPY!!
And guess what...
This is making me actually pee in excitement.
THE TALES OF BEEDLE THE BARD IS READY FOR PURCHASE!
For those of you who don't know, J K Rowling penned another book... This book is called
The Tales of Beedle the Bard
- it is a storybook of magical fairy tales. The book is mentioned as the book that Dumbledore passed to Hermione in
Harry Potter and the Deathly Hallows
.
Once I heard the news that amazon is selling the book, I immediately clicked
there
and spent USD$100 on the precious collector's edition.
AHEM
. It is not wasting money ok! It is called
INVESTING
! All of Rowling's first edition books are sold for THOUSANDS on ebay lor!
Yes,
MAYBE
those has her signature on them la... But still!
Anyway my USD$100 is all donated to CHARITY! So that's great too!
I know what you are thinking...
"Lawsuit maybe flying your way, still go and spend so much money shopping!"
Wah lau... She want to sue don't sue like that, I can't possibly be scrimping till she makes up her mind right?
Wait till I get the writ of summons then cross that bridge la, seriously.
To the someone who paypal-ed me $100, I am going to return it to you. You send it to me again if the real need arises k!!
But
will
this lawsuit happen? If it does, I do want to go to court and ask Dawn a
BARRAGE
of questions!!
Like... Are you really Eurasian? Are you DELIRIOUSCHIC and XOXODOLL?? So many mysteries so little time!
Very curious right? I'm sure you also want to see her answer these under oath. :)
*****************************

Momo and my 2 girl cousins and my auntie came over to my place that day...
I love my cousin Cally's niap niap baby girl...
Her mummy and daddy both got huge eyes so hers are like marbles also. She loves looking at me!! I think it's because of all the shimmery things I have.
OMG I AM RAGGGGGGGGGING WITH MATERNAL INSTINTS!! RAGING!!!!!!
We put her on the bed where she is very confused by all the aunties gossiping.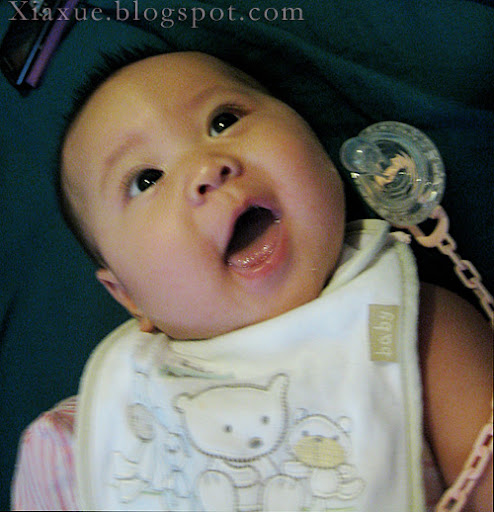 Happy babies make me happy!
She's really curious and gives you her full
attention when you speak to her
So niap! Why babies got such nice clean armpits??
After this we bring the baby to Ikea Tampines...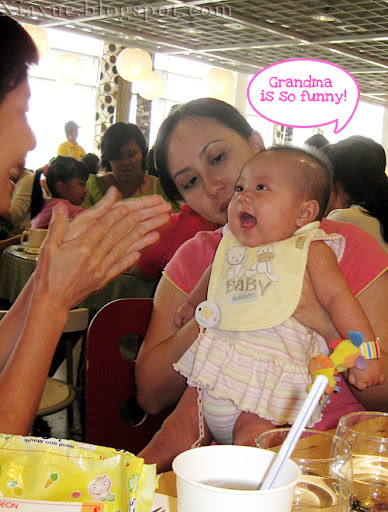 Chloe's grandma, aka my auntie, makes her chuckle in joy by poking her in the belly.
BTW this is the auntie who is an MJ queen can?
Once, during a game, she won by drawing the very last card. So I said
"Hai di lao yue!"
SHE SCOLDED ME AND SAID
THAT IS NOT HAI DI LAO YUE!!!!!!
I was like, "
????????????
"
Isn't winning by the last card "hai di lao yue"???
My auntie then explained to me that that term is commonly misused. It is true that winning by the last card adds a "fan", but it is not hai di lao yue...
BECAUSE HAI DI LAO YUE MEANS YOU WIN WITH THE LAST REMAINING TILE AND THAT TILE MUST BE AN YI TONG!!
Thus "yue", which means MOON! Because the bloody yi tong look like moon!
Amazing hor?
Anyway.... back to non MJ related stories...
I am very excited coz Kaykay and I are going to...
Zhen Shan's (aka Arissa) birthday party!
Me being driven there by Mike...
Dress:
Heart neckline purple satin short length dress. From This Fashion at $15 OMG!!
Glow:
Photoshop new technique learnt from Jamie - Diffuse glow!!
My angmoh very unhappy coz I am going clubbing without him.
I look weird here... Whatever la
WE ARRIVE AT VELVET!!
Where's the birthday girl?
Must be the one with the bunny ears. See they so excited about me coming that they are gossiping in anticipation. Hahahaha!
*poke*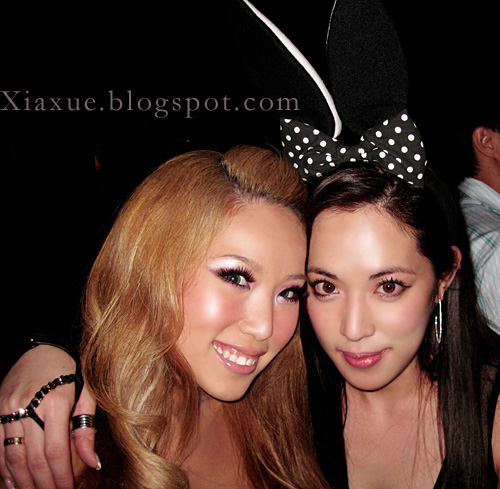 Must take pic with the birthday girl!
I hate Zhen Shan!! Those are her real lashes can??? People like me must put extensions and stick falsies like crazy!!!!
Nabeh why my eyes so small. *kicks sleeping Mike*
Group pic with Kay kay also... Clickable
Kaykay with her friend Joycelin.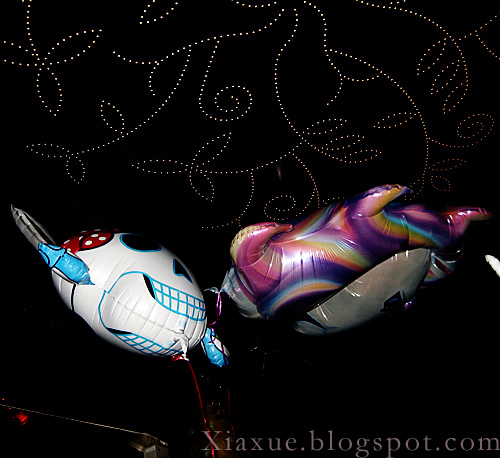 Birthday balloons.
One's a skull... Can you tell what's the other?
Answer will be revealed in a bit
Kaykay and I... I miss her so much!
She's been busy with her bf and work, nabeh.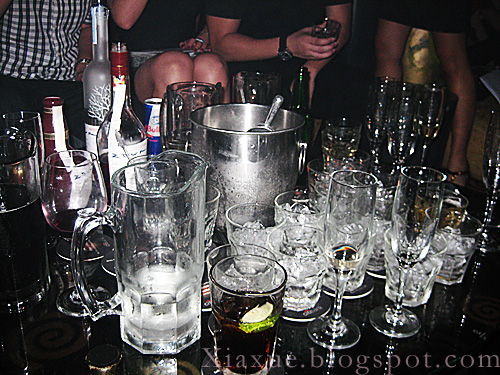 Drinks drinks drinks
Junne and Sharon also at Zouk
Birthday people aren't allowed to be sober
Zhen Shan's mad already... Half bunny half tiger
Roar!!
The guys are drawing unibrows on each other!
Gossipy Kaykay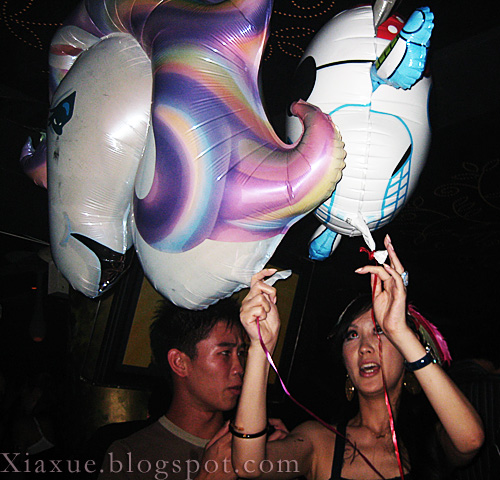 Here's Annabelle holding the balloons.
Did you guess it right?
It's a unicorn!
Me with Eric
This guy's so talented! I got to know Eric coz we went to NYC for Singapore Day together. Maybe more of you know him by his Chinese name:
Huang Yun Ren.
Familiar? That's coz he wrote songs like Tanya Chua's
Wu di dong
and Fish Leong's
Wei wo hao
.
NICE RIGHT??
I love those songs can!
Eric also did most of the music for 881, and now he is working on 12 Lotus.
Talented people make me have twangy feelings. Like got some aura on them. You'll never know if you are talking to him and suddenly he has inspiration for some classic work... then you are immortalized as the muse!! OMG! I am
totally
muse-ish.
Peekaboo!
Me, Joycelin, Rosaline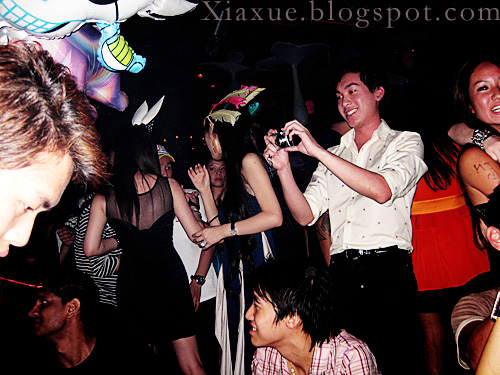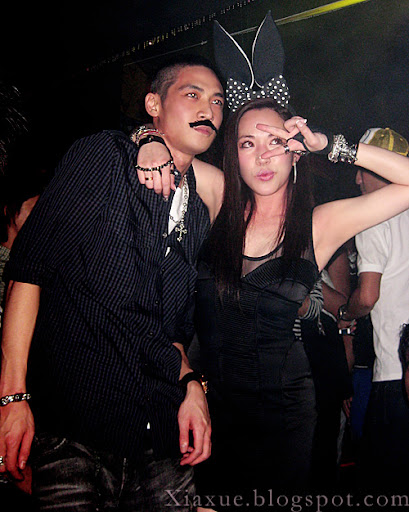 Zhen Shan with her brother... And I did not draw that moustache on him with photoshop! I am not so childish hor!!
More happiness!!!!
Mike brought me up onto the
Singapore Flyer!!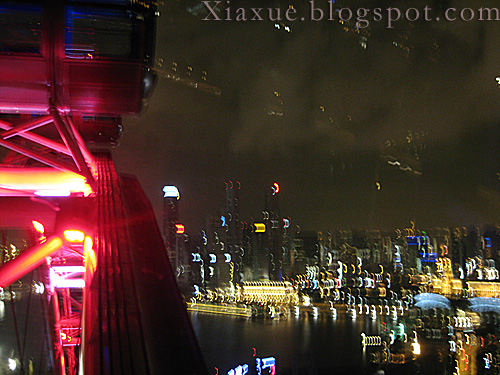 Us at the very top...

Psychedelic hor the colours?
We also just bought tickets to fly back to the USA for Xmas and New Year!!
From 10th of Dec to 3rd Jan I will be in lovely
Dallas!!

I MISS IT SO MUCH AND I CANNOT WAIT!!!!!!!!!!!!!
I love the USA!! (Although I love Singapore more la)
My hope is that this year Mike's brothers' girlfriends will be very vain and will go shopping with me on Boxing Day.
I am dedicating 10 hours of my time at the mega humongous F21 over there.
Of that 10 hours, 9 shall be at the clearance rank digging out SUMMER CLOTHES ON DISCOUNT!! Omg!!!!!!!
I AM SQUEALING!! So excited!!
But the sad thing is hor... Plane tickets are MADLY expensive this year!!
We are flying SQ, but it costs
bloody $2,700
!!!!!!!!!!!!!!!!
MAD OR WHAT??
Even on lao pok NorthWest or whatever it costs 2.5k, so might as well take SQ right? Stupid petrol prices rising la, that's why.
Anyway this year Mike is sponsoring $2k for my ticket, coz last time when he was poor I bought him a 2k ticket to come to Singapore too...
SIBEH BOH HUA FOR ME LOR~!!! Coz price of the ticket increase mah!! Should be 1 ticket exchange 1 ticket mah!!
But still no complains... $700 is very little compared to $2,700!
Poor Mike... Bank account suddenly $4,700 missing...
So anyway, in case you haven't realised...
I AM HAPPY!
Woohoo! May the happy spread to you too!
Loves!