Yay for cheap flights from MAS!
Advertorial
Thinking of flying?
With the low fuel prices nowadays,
everyone's
thinking about it!
In that case, I've got good news for you! Malaysian Airlines (MAS) is offering many straight routes from Singapore to anywhere in Malaysia!
It's perfect for short trips to KL for the chio KL twin towers...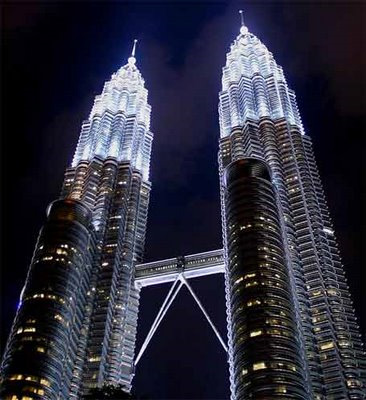 Or Penang for the
greatest Salted egg yolk prawns
I've ever had...
Or... maybe... For our 3rd year anniversary, Mike and I can go visit beautiful
Langkawi
again...
I miss that place so much! I've been thinking of the turquoise clear waters and the silver fishes darting around...
I MISS YOU LANGKAWI!!!

Well, whether you want to go to Kota Kinabalu to climb a mountain, or go to Malaysian beach resorts for a scuba diving trip, you can use MAS!
HOW MUCH YOU ASK?
At a really low price of
$100!!!
That's for Singapore to Langkawi and Penang!
For
$49
you can fly to KL, Kuching and Kota Kinabalu!
Why waste time and sit on a coach for 7 hours when a flight only takes 1 hour? Plus planes have loos... Honestly man, I rank "wanting to pee on a coach" one of the worst feelings in the world to have... I know some coaches have loos la... But those are really ewwwwww...
I'll be honest - I have not flown MAS before, but I heard that their service is great and the seats are nice and comfy. :) Well, the travel fairs have always urged me to fly with MAS, and this time I really might! To Langkawi that is!
Thinking of a
longer
vacation out of Malaysia?
How about to
London
for authentic Fish and Chips?
SIN - London : $700!!
Or
Amsterdam
, where you can visit the famous Amsterdam canals?
SIN - AMSTERDAM : $710!!
Or... To
Paris
maybe? For some romance?
SIN - PARIS : $700!!
How about a little nearer to
SYDNEY
?
SIN- SYDNEY : $395!!
Breathtaking
I know right?
How
to choose? Anyway, wherever you want to travel to, you can use MAS!
The travelling period is from 17th Feb til 30th of September. Malaysia Airlines Travel Fair (MATF) is now till the 19th of Feb (which ending in 3 days!) so do hurry!!
p/s: Please note that prices are for one way only.