Advertorial
You know, I've thought that I have a really cute butt, but there seems to be no contest for me to join to show off my ... erm... favourite asset! Perhaps you also suffered the agony of braces for years and want more than praises for your teeth? Or perhaps you have a really toned physique and you think you deserve more than just appraising looks for it?
Well congrats then coz it is Watsons' annual
YOU AWARDS
, the award that's all about you! And you can actually
win money for looking good
!
Watson came up with a
grand total of 8 categories
for people to pit against each other! No 'butt' category, but they do have:
Healthy Hair


for hair that gives you confidence throughout the day



Fit Figure


for the body that is taut, toned and full of energy.



Flawless Face


for a face made amazing with make-up magic



Healthy Skin


for a skin that glows with health and radiance



Friendly Face (Female)


for the face that speaks the universal language of friendship



Friendly Face (Male)


for the face that speaks the universal language of friendship



Sunny Smiles


for the smile that lights up the room when you walk in



Sporty Physique


for the body that loves exercise and the great outdoors
So many!
With 8 different awards it's
much easier
to win isn't it? Honestly, just pick whatever you think has the least people join and go join it! OK I can't decide which one that is... I guess less people have fit figures? But I can't join that...
Ahem. Anyway, to entice you to read on I have to let you know the amazing prizes!
Wait for it...
Wait...
$2,000

for the winner of each category

PLUS

1 year modeling contract for Glow magazine

PLUS

1 year's supply of the sponsors' products!

Great prizes or what!
And to register is surprisingly easy! Check out the simple
registation page
here.
All you have to do is to keep a Watsons receipt (any amount will do!) and fill up the form by telling Watsons why you think your feature is unique in 400 words or less.
And then post up 2 photos of yourself! Easy right?
Now, just because I'm a Know-it-all like that, here's some pointers on how I think you can have a better chance of winning 2 categories...
Flawless Face and Sunny Smiles!!
First, dress up in nice clothes and preferably a noticeable accessory! First step to being shortlisted is to be noticed!! (Mine is the hairband)
You have to put make up though, being bare-faced is obviously lame for a make-up contest.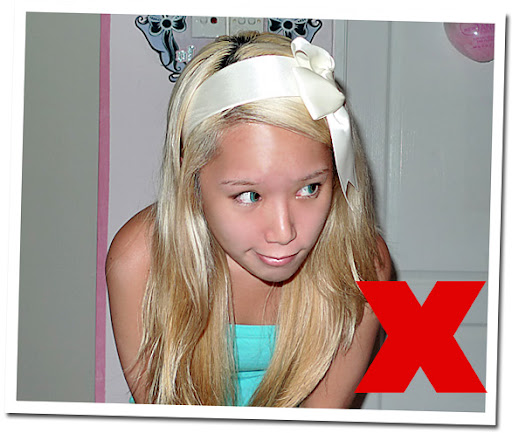 Ugly without make-up
Everyone who knows me knows I've been using ZA's two way cakes ever since I was 13! It has always been my favourite!
Recently Andie introduced to me Revlon's awesome liquid soft-flex foundation and it has officially joined my make up family!
It's really, really cool! The foundation has a crazy magic formula that lets it stay on your face for
HOURS AND HOURS
. The texture is a little like...
deodorant
. You know how when you put deodorant you can't really 'rub' it off? It's like that! But powdery!
And miraculously enough it doesn't ever (EVER) let your t-zone shine, no matter how oily your skin is. Marvellous.
However, I don't like the colour as much as I do ZA's powders, so I do a mixture of Revlon on T-zone and Za all over.
(And btw these are really my own opinions Revlon is totally not paying me to say this)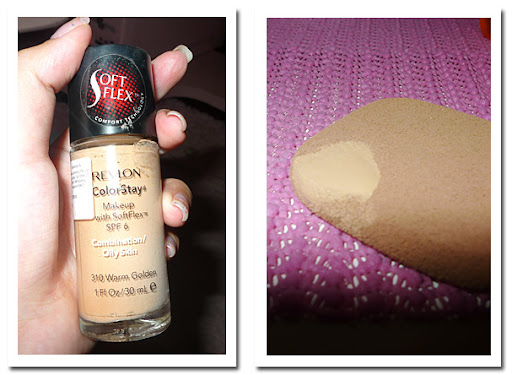 Put a little on your sponge just like that.
Spread it evenly... Apply ZA...
And your base is done!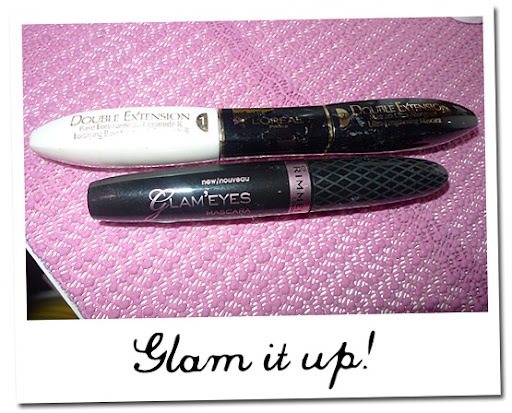 Glam up your peekers with loads of mascara!
On my lower lashes - Loreal's lash fibres and Rimmel's mascara as the second coat because it's a nice shade of brown.
And my eyes are done!
Next step is for
Sunny Smiles!
First you go brush your teeth real clean!!!
And then...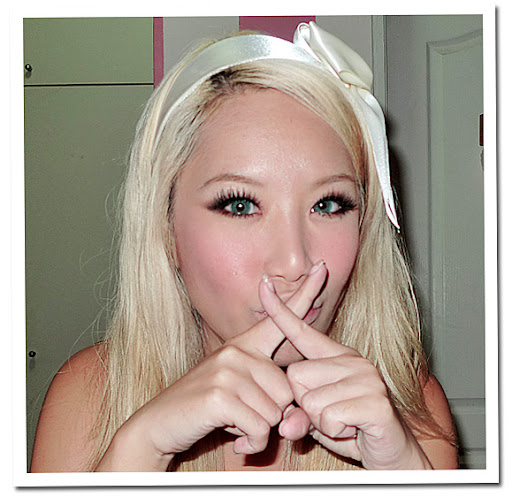 Remember to apply lip colour because nobody wants to see pale and cracked lips!
You can cam-whore while you are at it: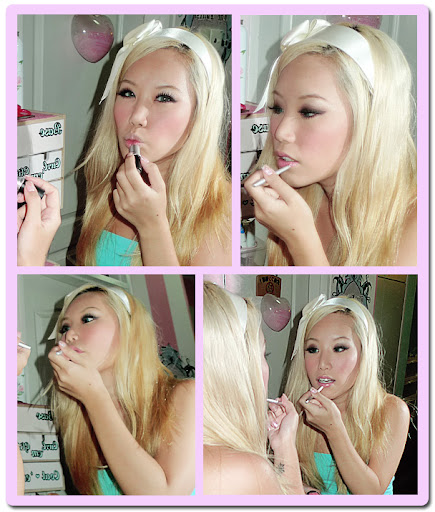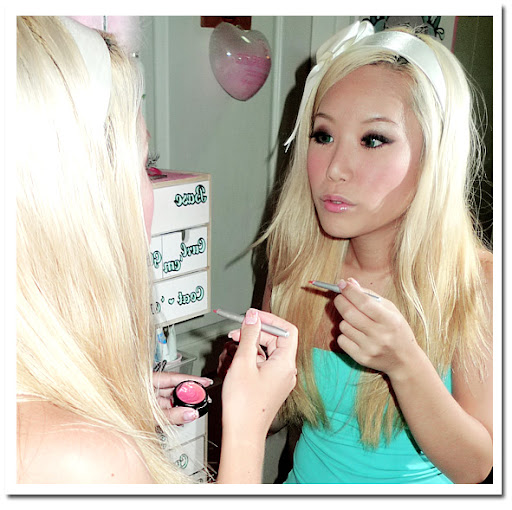 There! You are all ready to take photos! First for your
Flawless Face Award
...
Have a few for selection.
You can try the classic act chio pose...
Or I'd suggest a pose more special so that you get noticed!
Like this? :D
And as for the
Sunny Smiles Award
...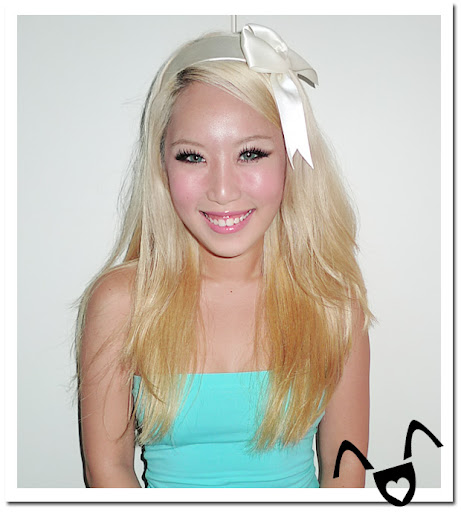 Just make sure you are feeling
really
happy when you are taking it, because a smile can always reach your eyes, and those are the best kind of smiles!
Now that you've got your photos, make sure the pictures you have are clear, sharp and bright!
Then you can send them in
HERE.
Recruitment is open from now till June 10th only so hurry!
AND WAIT!
If you are not interested to join in the contest, you can still join in the fun by voting!
Voters also get prizes! The 8 lucky voters who correctly vote for the correct category winners will stand to win attractive product hampers each worth up to $50 in value and a $100 Watsons Voucher!
However, voting only starts on the 18th of June so there's a long way to go.
If you are joining, Good luck! =D