Piccies taken from my Bali holiday! The trip is sponsored by
Holiday Inn Resort Baruna Bali
(not advertorial, just sponsorship), so thanks to M and A for this!! (And you also Ju Ju Seah!!)
Kaya toast and eggs before flying
At the airport. I was the only person in shorts besides Mike.
Seriously? Is it
THAT
cold??
We arrive at the gorgeous Holiday Inn.
Sea view
Served tea and cold towels
On our way to a nearby mall in Kuta.
I'm a MILLIONAIRE!!! Call me heiress!!
We were shocked when we saw that the sea was just
RIGHT BEHIND THE MALL
. (Called Discovery Mall or something)
The view from our suite!!!
And our hugeass balcony.
So thoughtful of them to put the clothes drying rack there for our wet bikinis!
Camwhoring
Few shots of the room
And a happy Mike
And me!
My outfit for the opening party of
Envy
, the beach bar at Holiday Inn.
I showed Mike this photo on my camera and I said
"Thanks for taking this pic for me baby!"
He said
"Oh, you are welcome".
I actually took the shot via self-timer.
-_- Where got people like that anyhow claim credit one??
Gorgeous sunset... Hotel guests get to see this everyday
Ice sculpture
With flash and without... The beach lit up by many lanterns
Us seated
Mike and I with A and M... Sorry they requested anonymity so no faces!
Fashion show!
Fondue fountains of white and dark chocolate... Mike looks like he has all intentions to stab the fountain to death.
We had a fabulous dinner just lazing and eating off
beach chairs, staring out into the ocean...
Fireworks burning out the word
ENVY
Day 2!

We take a longass car ride all the way to Ubud, where the famous
Babi Guling
store is!
Babi Guling supposedly, if I didn't remember wrongly, means roasted pork.
The place is packed with locals and tourists alike.
Awaiting food
FINALLY IT ARRIVES!!
The set comes with roasted suckling pig, juicy pieces of pork (really madly nice), rice, veggies with coconut, and...
.
.
.
.
.
.
.
.
.
.
.
.
.
.
This disgusting sausage which looks madly disgusting. Nobody with us ate it, though Mike bravely took a nibble... He said taste like pig's blood.
And guess who came to look for us!!
Kenny, Ringo and their friends!
Picture!
Camwhoring outside the restaurant next to a temple.
Next we go to the
Hanging Gardens
...
It's this famous hotel up a mountain or some sorta hill... The ride up there was
FUCKING SCARY!!
Bali's roads are not very developed and the roads are all narrow 2 way lanes... Potholes are aplenty and it even sometimes become one-laned because of vehicles parked on the roads!!
And if you tilt towards the edge, you literally fall off a goddamn cliff confirmed cannot find your body kind!!
Luckily we survived!
A Balinese staff brings us on a lift-ride
That's our 'lift'. It brings us down to the lounge area.
That's the tracks... Freaky right?
That's the lounge. We were told that the view is very nice, but when we rushed to see, we realised it was beyond nice... It was simply
breath-taking
!
There were 2 infinity pools... The REAL sort.
Literally if you fell off the edge of either pool you'd plunge to your untimely death.
We were so high up that all I could see below were forest, nothing else.
Mike looking awed
Everything was just so serene.
We couldn't resist sitting by the pool and bringing our drinks with us...
Sidenote: Dress only
$9
with heart-shaped neckline and heart-shaped buttons! Awesome find!
Happy
Awesome for tanning but too bad I didn't bring my bikini and it wasn't sunshiny that day.
Airforce ad
Me giving an act cute face
Artistic boh!
That's a real cocoa fruit. I've never seen one before!
And that's it we go up the precarious lift again.
After this we go back to the hotel and explore the beach behind it...
Gorgeous!
We frolicked for a bit and went for a massage.
The super nice massage room.
Just what we wanted after a flight!
And, props to Holiday Inn's massage staff man!!
THE MASSAGE WAS FUCKING AWESOME!!!
Like seriously the best I've
EVER
had!! They focused a lot on head massaging and even facial massaging, which imho is the best sort!!
After this we go to Jimbaran Bay for great seafood:
Located right next to the ocean... You can smell what you are gonna eat while they are alive, literally.
Avocado milkshake. Madly nice.
Corn from a vendor. They roast it and put some sort of burnt brown sugar (or maybe it's honey) with salt and loads of butter on it. It's
so good
omg.
Food!
Fish
A plate of Kang Kong for everyone, comes automatically with the meal.
Hugeass JUMBO PRAWNS
LOVE!
Check out Mike's corn...
Eaten so messily!
It pisses me off!! I eat corn very neatly 3 rows by 3 rows. If 4 rows are left I get annoyed coz I don't know if I should eat 2 and 2, or 3 and 1, or 4 at one go.
OCD much? LOL
It was a lovely dinner! Thanks for the treat M and A. You guys are great!!
Day 3,
Mike and I go on a boat trip to a little island off Bali!
Beautiful clear waters
First we into a submarine where we were invited to see underwater marine life...
This is the best photo I can take outta the windows but I must say I gasped!
The waters were so clear you can see to the bottom of the ocean floor and the fishies swam around the boat so closely we could see their gills!
I didn't know what I was expecting... Cloudy water I guess? Hahaha...
Turtle on the island being forced into cam-whoring with tourists.
Here's one tourist abusing it
Forced to take photos never mind, still expose people's genitals. Poor turtle...
COCK FIGHT!!
Squawk!
Weeeeeeee!
Our lunch... Person behind Mike looks so menacing.
Mike trying a Snake Fruit.

It's horrid. He said taste like "apple" but drier.
We were on a Pantoon and snorkelled too!!
Obviously no photos since my camera can't go underwater. Snorkeling was fun for about 15 minutes.
It was really quite something being able to be so close to the fishes and see all the corals, but after that I realised, together with the rest of the girls,
I was drifting further and further away from the ship due to the current!
I panicked and freaked out coz I realised I didn't have enough strength to go back to the boat!!!
I grabbed Mike and told him to swim me back. LOL!! Loserish!
Anyway, after a while I started to get nauseous and the snorkel was pushing up against my columella (area between nostrils) in a really uncomfortable way due to my implant... Advice to Plasticzilla not to snorkel.
Mike was really enjoying himself though so I let him be and waited beside the boat for him.
After this we went tanning! The sun was glorious!!!
We were in a tour group with Taiwanese people so the tanning chairs were all EMPTY. I guess the Taiwanese all wanna be fair?
Back to the hotel and then to dinner:
R. McDonalds in Bali rides a surfboard.
Sunburnt Mike.
We couldn't find the place we wanted to go to (sells Prawns and Chips as recommended by a blog reader) so we just settled for any restaurant in Kuta...
I ordered something which compensated for my expectations of getting Prawns and Chips that night but this meal kinda sucked.
I know it LOOKS nice but the cream sauce was not at all creamy and was just salty! Weird.
Mike's seafood curry. Also not nice.
I was 100% positive for some reason that we had one more day to stay in Bali.
I told the hotel's GM Stephan (If I didn't remember his name wrongly) this, and he gave me a raised eyebrow but said nothing to the contrary.
Next morning at 11am he called and asked me if my flight is at 1pm later and asked me to double check.
THANK HEAVENS HE CALLED CAN??
I totally misread the date!!! Stephan's a savior man! On top of that he recommended us loads of nice places to go to (the places he recommended did not disappoint) and he is so nice and friendly too. =)
So in half an hour Mike and I packed up and left!!
I was so upset coz I thought I could go shopping the next day!! Boo!!
I kept apologizing to Mike over and over again but he wasn't angry. I came to the conclusion that he forgives my mistakes much more easily than I forgive his so I shall vow to be more accommodating in future. Ahem.
Paiseh!!!
And we arrive back in Singapore!
On a postnote, I must say that I am very impressed by Holiday Inn's staff! They are all so polite and sincerely nice. Like you can tell when someone's nice coz they are HAPPY, not coz they are paid to be. Ya know??!!
Anyway, I left my blackberry on a sofa coz I dropped my earring and was trying to find it back in haste. Another guest found it later (phone not earring) and returned it to the hotel staff, who passed it back to me.
THANK GOD! I was so flustered when I thought it was gone forever!! Honest people are awesome!
**************************************************
Pumpkin's photos!!!
Naughty girl keeps biting my toes...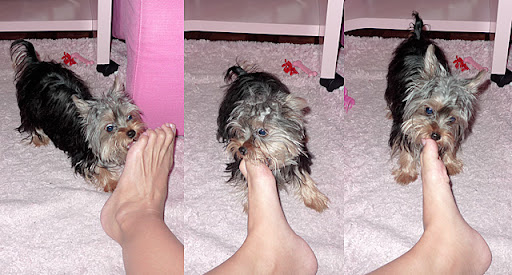 Classic head tilt
Anyway, she has this ring toy which I bought from Ikea. It's for babies. She likes to put her head and front paws through the ring, so that she's wearing the ring like a skirt or something.
It's sooooooo funny! We kept having to "rescue" her.
Looks so stupid
Here's one of Nano burying herself in bedding...
Many of you have asked where Picolove is. Pico is staying with my mom because Pico kept attacking Nano and bit Nano till Nano bled! So I had to separate them and now Pico is my brother's pet.
And I know you all think Pumpkin is really cute...
But here's how she looks like when she's freshly out of the bath...
.
.
.
.
.
.
.
.
.
.
.
.
.
.
.
.
With a face only a mother can love.