Flash Mob Piccies + Singapore River Festival!
Advertorial
Here are the piccies for the
flash mob!!!
It was awesome! Even though it was sweltering hot, SO MANY PEOPLE CAME!
OVER 200!!!!!!!!

And having press coverage too!
I almost couldn't believe how enthu you guys are.
Honestly man... Boss Ming and I were wondering what's going to happen if
nobody
came at all. But loads did! :D
And for those who came to "follow" me, thanks for the support, betches!
I didn't take pictures myself coz I was busy handling the dog, so here are some official ones!
Check it out:
'Flashers' waiting in line.
Looped all the way around the field. I was one of the first to arrive and I was talking to people and when I turned around, I was SHOCKED to see so many people!!
Nuffies are always generous with GOODIE BAGS
Yay!
Huiwen abusing the loudspeaker
With readers!!!
:D
Me! And BTW my photos are photoshopped.
If you'd like to see my fat jawline and still-big nose you can check out the photo set
HERE
.
Also, I never zhao geng here ok! I magnified and checked! It's impossible to zhao geng when you have such fat thighs.
I love ya all!!
Ok lah since I know none of you personally, it would be more honest to say... I love the attention y'all pile on me! Weeeeeee!
Any takers?
My readers are so young. Feel damn old!
That dude in the jacket must be melting!
And we dance!
And pillow fight!
Check out my blonde head.
We were attracting so much attention from the onlookers.
Is everyone looking at me or Pumpkin?
Flash and the event is over! Our "group" snaps a shot.
Goodie bag time!
Success! Applause!!
CHECK OUT THE VIDEO:

AND GUESS WHAT............
.
.
.
.
.
.
.
.
.
.
.
.
.
.
.
.
.
ARE YOU??
I AM!
And it's happening TODAY!
The
SINGAPORE RIVER FESTIVAL
is the largest sundown party by the river and an exciting free-access multi-faceted festival for everyone's enjoyment!
What happening on the 19th of June:

Specially guided tour by Nuffies who will bring bloggers around the SRF
Ultimate PJ Party @ The Arena awaits you!



• Free entry into The Arena with

2 free drinks


• Performances by The Arena All Stars.
• Party away with the likes of groovy music all night long
• "Ticket" to the entry is the Red Stress Ball given out during the Flash Mob
• DRESS CODE: PYJAMAS (ATTIRE IS COMPLUSORY FOR FREE ENTRY)
You guys got to come!!
The party starts at 7.45pm at the Main entrance of The Central Mall (In front of Azabu SaboHokkaido Ice Cream Shop).
Be sure to come in your
SLUTTIEST
pjs because we Singaporean bloggers cannot lose out to the Malaysian bloggers who attended the KL PJ party dressed to the max!
What's happening from 19th June till 27th June:
There are many activities organised purely to entertain you by the Singapore River Festival.
Some examples are bumboat rides, flea marts (my favourite), Jazz recitals by the river, musicals... and so on!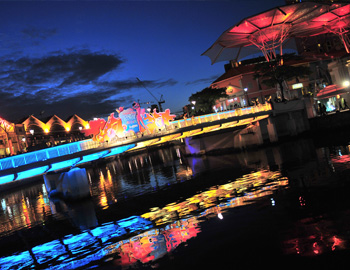 Check out how pretty the Bumboat rides are!
If you want to bring your partner out for a romantic, different date, I think you can definitely consider this! Somemore free! Haha!
For more information, you can check out:

SINGAPORE RIVER FESTIVAL'S WEBSITE
CALENDER OF EVENTS
Cool huh? I'd see you guys at the party tonight! And I'm
doomed
I don't know what PJs to wear. -_-