XIAXUE'S GUIDE TO LIFE
Guide to Emergency Household tips!!
My very own special method of hiding period stains
on your skirt!! LOL!!
Guide to photoshop part II!!
Many of you have requested for this...
More ways to lie and cheat your way to internet chioness!
CHICK VS DICK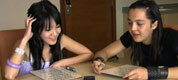 Kaykay and Paul are forced to phone their
parents and blabber the most vulgar words!
Watch to find out why!
THE SHAN AND ROZZ SHOW
Shan and Rozz interviews Ris Low, who turns out
to be a bit ding dong!
This episode even made it to The Newpaper (2 pages can?)
and she even strips down to her bikini... You just HAVE to watch it!
NUMBNUTS
Poor boys... Numbnuts indeed - forced to sit naked on ice cubes...
Loser gets pepper sprayed in the face!
Really, you should watch it just coz they suffer so much...
The boys get into a cage fight.
LOSER EATS A FUCKING
BALUT!!
That fucking thing is how muthafucking gross!
I gagged like five times watching this.
p/s: You guys need to chill about the promised blog entries ok? I'm

gonna

write them, but a good entry needs inspiration and time!!