Socializing Online Shopping
Weee!! The whole blogosphere has been abuzz with one thing recently: The launch of
Super exciting!!
I know right the name is super hilarious. 'Ji pa ban' is hokkien for 1 million bucks or something. Hao xiao!!
And Jipaban is brought to you by the same folks who gave us Nuffnang. Since Ming is one of them and it was his birthday and also coz Jipaban is awesome, I'm gonna tell ya all more about it!!
We all know that Singapore has
A LOT
of blogshops. Now I know I stated before that I disliked blogshops coz all their clothes are similar + low quality. But times have changed and as more and more blogshops came along, the worst ones get sieved out and the quality has improved by leaps and bounds. I mean of course there are still shitty ones lah but cannot just discount the good ones coz of them. :)
Now the problem with surfing blogshops... We have to click on so many pages to find out if new collections are launched... Sometimes I just want to see all my favourite blogshops at once, buy 3 dresses from 3 different stores, add them to ONE shopping cart, and pay at one go.
AND NOW I CAN WITH JIPABAN!!
Jipaban is basically an online shopping mall with (currently) 50 blogshops participating in it, including the famous ones like Bonito Chico and Ohsofickle etc, and some are even launching exclusive collections for Jipaban!
Perhaps it's a biz idea that we all hoped will happen one day and now it has. Awesome.
Jipaban Universe with 50 blogshops
It's not as simple as just asking a bunch of blogshops to put stuff into one website. I just began surfing Jipaban today and it's chockful of other features to make your shopping experience
SO MUCH MORE FUN!!
Sorry I know I sound damn hyper but I'm really very impressed with the website lah! The last time I was so excited about a website other than my own is when I realised you can snoop on people's scandals with facebook. *gossipy
1) Building your own goddamn mall


My mall with super a lot of shops coz I'm greedy lol
Don't wanna see some blogshops coz their items are not up your alley? You can choose all the blogshops you like and put them into your own personalized mall!
Your mall can have different levels (machiam I really own a mall with 3 floors) for different genres somemore *faints*
Mad awesome now at one glance you can check out all the thumbnails of the blogshops to see if they have new items! Somemore you can shift the thumbnails around to arrange them in the most pleasing way *faints again*
2) Can have profile + friends + updates
ala facebook one wtf

My profile
Why so amazing one?? I don't know when shopping started to be so fun - you can add all your friends and kpo what they buying or like... Can even have wishlist to hint hint what you want for your birthday!!
And you can buy what I bought to copy my style!! On hindsight please don't do that. -_-
But if you are the irritating private sort of person you can choose to only show your profile to friends, or no one at all.
3) Egg on or smash
My egg-on list
This feature is damn fun lah!
If you are undecided on whether you want to buy something, you can put it on your egg-on list and friends can vote on whether you should buy!! Click Egg-on for yes and Smash for no!
4) No more writing nasty long
comments to pay
Easy payment - don't ask me why my cart for $571.45 worth of things.
Too many chio items to buy!
The thing I hate about blogshops is paying. If you bought clothes from them before you'd know you have to leave a comment with loads of details. Don't need to fuss with that anymore!
Address is stored and payment methods/delivery method are chosen from dropdown menus. Only left transaction details to be filled in!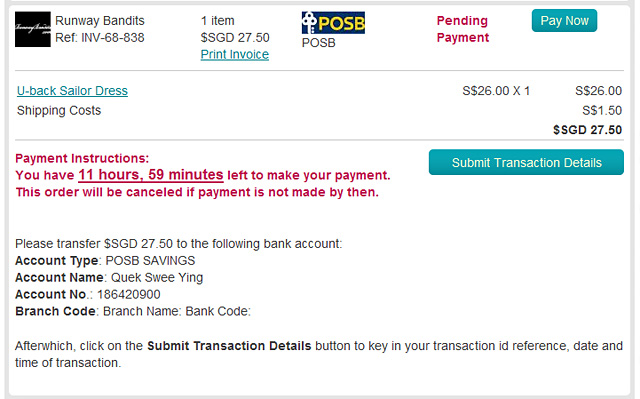 Easy peasy!!
Gotta love Jipaban!!
Here are the items that I bought:
Happy boh? I've been looking for that dress with the heart-shaped cut out at the back for ages now! (New Look got but my size is sold out)
Jipaban's anchor tenants are BonitoChico, Ohsofickle, Ohmymuffins, Access-ed and Singtel.
Wanna know more? Confused by what I'm yabbering about? Well you can watch videos:
FOR SHOPPERS:
FOR RETAILERS:
p/s: Besides being for shoppers, Jipaban is also an awesome invention for wannabe retailers! Dreaming of having your own blogshop but don't know where to start? Opening a blogshop has never been so easy - no need to buy domain, design blogskin etc. All done for you!
"Rent" is only $100 per month (for bronze category) and you get all the hits you need from shoppers from Jipaban!! Honestly I'm thinking of opening one except I'm too lazy.
OK bye I'm going shopping now.