Advertorial
To be honest I have
never, ever spent money on a branded bag
. My most expensive bag is some Juicy beach bag which cost me $250usd, which, granted, could probably get me a tiny prada pouch or something, but I could never justify spending so much on luxury items!
And that's why when
Reebonz
, a discounted luxury brand store, told me they wanted to give me a free bag, I was really quite excited!!
I'm 26 now and all I have in my bag cupboard are 30 dollar bags in bright childish colours. Some of them even have fur -_-. I mean that's great and all but sometimes I have to go to client meetings and I just wanna be taken a
bit
more seriously!
AND SO!
HERE IS MY PRESENT!!
*Rubs hands in glee* (Glee!)
Comes in a pretty paper bag
All wiped up in a gorgeous stylish box
Untying 'reebonz' = fun!
Here's a peek!
It's from Kate Spade...
AND HERE IT IS:
.
.
.
.
.
.
.
.
.
.
.
.
Super gorgeous spacious bag in luxurious shiny gold leather!!
Ok yes it is still not a "
take me seriously
" bag but at least it's not old/broken/cheap/"inspired" like my other bags!! LOL
It is super hard to photograph coz it is so attention-getting and SHINY!!
I love all the hardware
A lot of space inside and it's not too heavy by
itself either so I can stuff loads of stuff in!
A long time back, Reebonz was interested in an advert but "discounted luxury goods" sounds damn suspicious so I just ignored them, not wanting to the the next Plasticzilla -
cheating blog readers of their money and buat bodoh
. (PR lesson honey: Give your advertorial money back to victims! Why should you earn money when these people lost hundreds, selfish bitch?)
But Reebonz had its first online sale at March 2009, and it's still standing strong with loads of clients. And what's more, I actually went to their office in Raffles place (quite big somemore!!) so
confirm it's legitimate
!!
And the stuff they sell are
GUARANTEED authentic
!!
Reebonz (pronounced "Ribbons") is a private online shopping destination of premier brands and private sales.
The website is for members only, and sale events last for 2-3 days before closing. Besides luxury products, Reebonz also sells spa yacht charters, holiday packages etc. Shipping caters to the whole of Asia Pacific and for Singaporeans, the courier comes at a flat rate of $9.90.



The original price of my bag?

$780

Reebonz's price?

$539

!!
Erm nobody really looks how they accomplish this but they just do!
What's the
BEST
part?
For the upcoming GSS, Reebonz is giving a
99% off SALE
to reward their customers!!!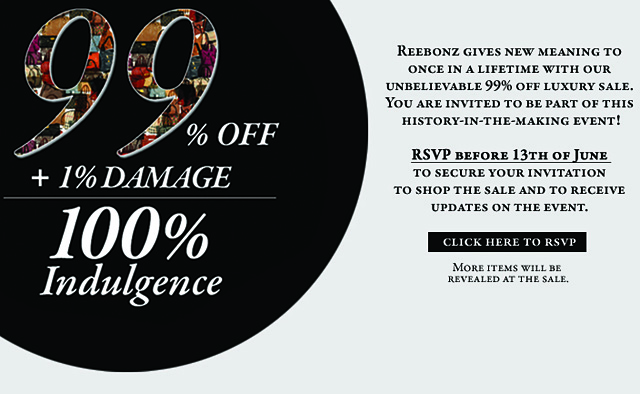 SIAO DING DONG ONE IMAGINE A PRADA BAG THAT'S $1,800 will be $18 fml I'm gonna turn on all 5 computers at home to go shopping on that day.
(Why am I sharing this with you all I feel I shouldn't be urgh work dilemma)
Here are the items that will be going for sale!!
Fendi Mia Zucca Shoulder Bag.
Retail:
$1,815
99% sale price:
$15.95
(!!!!!)
Kenneth Cole Men's Sports
Chronograph Bracelet Watch
Retail:
$649
99% sale price:
$3.29
(Can't even buy mcdonalds meal)
Chloe Eclipse Long Wallet
Retail:
$570
99% sale price:
$3.85
My favourite!! So cute!
I have a weakness for bags with many compartments
Kate Spade Dane Tote
Retail:
$780
99% sale price:
$7.80
And last but not least,
Prada Business Laptop Bag
Retail:
$1550
99% sale price:
$9.95!
So cheap it's like they are giving away these things free lor... -_-
So remember to be kiasu and RSVP otherwise you won't get the bags!!!!!!!111111 *frenzied eyes*
Anyway got chio bag so must camwhore. Don't pretend you don't like seeing my face then criticizing it.
Ok this pic has no bag but is chio anyway!!